22 Best PandaDoc Alternatives in 2023
The digital age has made the daily grind of doing business or simply taking care of administrative tasks significantly easier. Whether you need to keep track of appointments or streamline your filing system, there is a technological solution to take care of it and eliminate the need for manual processes.
And this goes for signing documents too.
When evaluating electronic signature solutions, it's important to consider the entire contract workflow. Individuals, entrepreneurs, as well as small and big businesses need to sign or have documents signed from time to time, and for that purpose, a custom plan for electronic signature solutions can be helpful. This includes business proposals, contracts, transactions, and other agreements. With the development of electronic signature solutions, users can send a digital version of the document via email, and the signee can complete the form online. 
An exceedingly popular platform for electronic signatures is PandaDoc, a company that started in 2013. Their product is used widely by people and businesses alike, but, as with any product, there are weaknesses that have motivated consumers to look for PandaDoc alternatives.
We will cover 22 software options and split them into categories that cover specific needs – for individual use,  entrepreneurs, small businesses, and big businesses.
As you go through them, remember that you must assess each product based on its features, price, how accessible it is, and the standard of security.  Ideally, you want a user-friendly option that is affordable with robust security.
Time to dive in!
1. For Small Businesses
2. For Individuals
3. For Entrepreneurs
4. For Big Businesses
1. For Small Businesses
If you own a small business and need to manage your contracts, proposals, and other agreements without fuss, you need a solution to accomplish this without costing too much. We have listed several options below that provide a free trial which means you can experience the solution  yourself first before making a commitment. 
1.1 DottedSign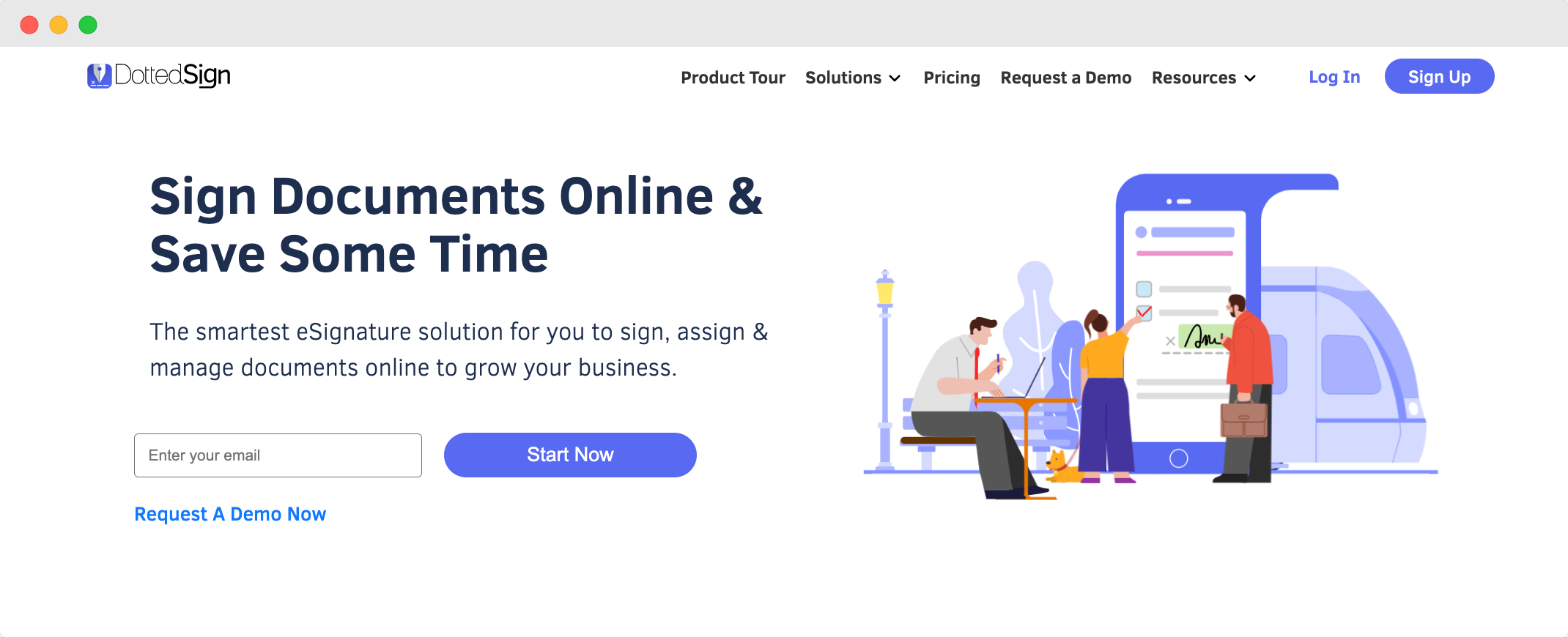 By focusing on the fundamentals, DottedSign offers a no-fuss online platform that works well and gives you everything you need, including the ability to add custom fields to your digital documents. Its modern and streamlined design makes it accessible and a pleasure to work with. You have the added benefit of digitally signing as many documents as you like.
DottedSign provides airtight security with guaranteed signature validation and identity authentication that includes digital certificates from a Certificate Authority under the Adobe Approved Trust List (AATL). Your documents are delivered in confidentiality thanks to TLS/SSL, RSA-2048, and AES-256 encryption. 
You can also keep track of all your documents in real-time with DottedSign's automated flow, including email reminders.Working remotely has never been easier as you can automate your document delivery, check your signer's progress, and know that notifications and reminders will automatically be sent to speed up the signing process.
Pricing Plans: 
Free Version
Pro (Free trial available)

— $8 per month (when billed annually)

Business (Free trial available)

— $15 per user per month (5-user plan, when billed annually)

Enterprise

—

Contact Sales
Close Deals Faster
Collect signatures remotely
Traceable audit trail and OTP
Team management and reporting
Explore DottedSign with Free Trial!
Start Now
1.2 SignWell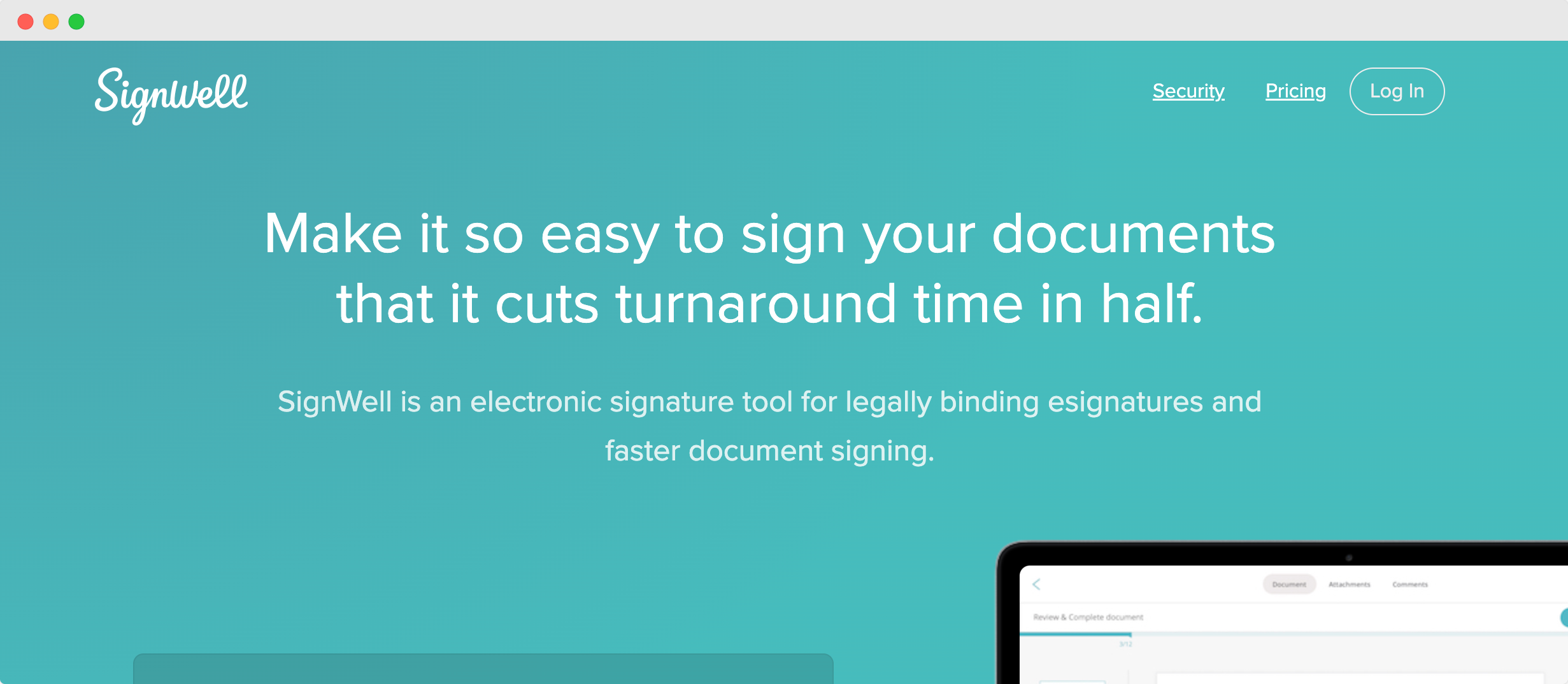 This web-based electronic signature technology has a free version that gives you access to one sender seat and a template, making it ideal for use with online forms. You can send up to three documents for signature per month, and it even informs you when signatures are necessary by sending notifications and reminders.
However, this free version is limited. So, if you frequently need to exchange legal documents, upgrading to the Business plan would be better. The software's security is effective as it has an encrypted SSL connection, while the alerts function will ensure that you never forget to sign or have a document signed again.  
This is a safe and simple version of the technology you need, and enterprises can even contact the company to request a customized plan based on their unique needs. 
Pricing Plans:
Personal

— $8 per month

Business

— $24 per month

Enterprise

— On request 
1.3 SignRequest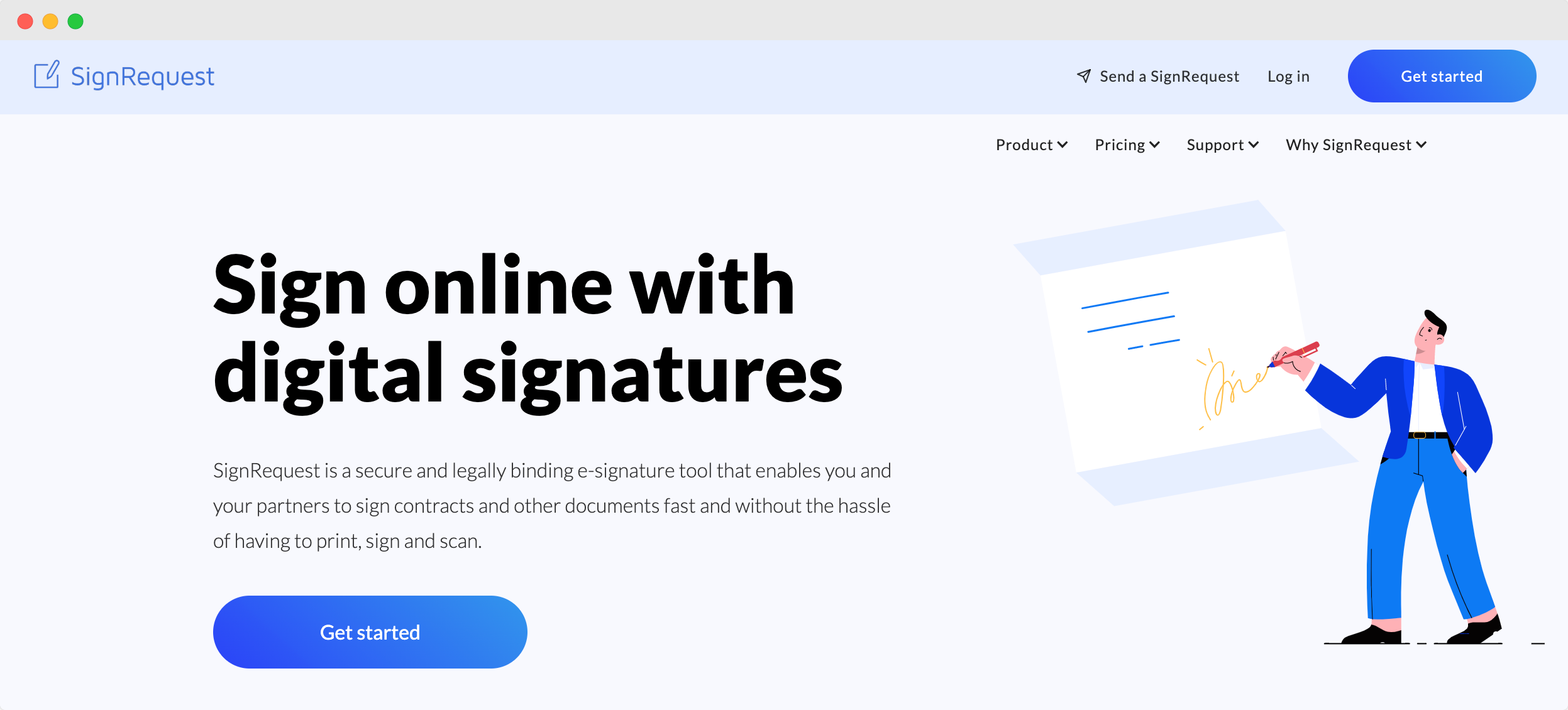 If you need software that packs a more powerful punch for handling digital documents, consider an option equipped with more functions. With SignRequest, you get more customization options.
This allows you to collect signer attachments, build templates you can use again, and even decide which authentication method is used for signatures to be validated. The software also includes document management capabilities that help you pinpoint incomplete documents. 
SignRequest is a web-based solution geared toward streamlining the signature workflow and making it accessible to everyone. Their integrations and partners are also numerous: Google Drive, Formdesk, Google Workspace, TOPdesk, Slack, and Zapier. The Professional plan gives you access to branding colors of your choice, and you can customize the order of the document pages. 
However, you should note that they don't specify how many documents you can receive, and you can't find information about their hidden fees. This means you could end up breaking the terms of service without realizing it. 
Pricing Plans:
Free Trial
Professional

— $8.95 per user per month

Business

— $14.91 per user per month
1.4 CocoSign
If you need to send, save, sign, and access documents online, CocoSign stands out as a user-friendly solution. This tool aims to automate business processes as much as possible to eliminate effort and mistakes. 
CocoSign is a cloud-based software that offers a wide range of plans that cater to your needs. Generally, you can expect a rich selection of features and cross-platform functionality. It is a HIPAA-compliant electronic signature program that ensures the security of your documents. 
This product is known for enabling the completion of documents five times faster than normal. This is likely thanks to the ability to collect e-signatures via a document signing link or a template signing link. 
You can also streamline the entire process by sending reminders and getting updates in real-time. Customize your documents with company branding, and bulk send your documents to speed up the signing process.
By creating a product that includes various integrations, many applications, industry-specific solutions, and APIs (Application Programming Interface), CocoSign has set itself apart as a strong contender that establishes smooth business processes people can move through quickly. 
Pricing Plans:
Free Trial
Essential

— $8 per month

Professional

— $15 per month

Business

— $25 per month

Advanced

— On request 
1.5 DrySign

DrySign is a cloud-based electronic signature platform that can be connected to Dropbox, Google Drive, Salesforce, or OneDrive. What's great about this solution is that you can simultaneously work with it on your mobile devices, desktop, or laptop without any problems. 
DrySign complies with electronic signature laws such as UETA and the ESIGN Act. It also comes with tools that make smart-tracking possible. This means you can generate audit trails and initiate multi-factor authentication to enhance the security of your documents. Keep track of actions taken by viewing all your documents in one place, thanks to the software's nifty dashboard. 
Additional features include automatic notifications, customized document fields, access to real-time changes, bulk uploads, and multiple signatories. If you struggle to use the platform, you can always receive technical support through their online help center or email. 
Pricing Plans:
Free Trial
Individual —

$8.99 per user per month

Professional —

$16.99 per user per month
2. For Individuals
When it comes to individuals, the chances are you do not need to sign and collect as many signatures as small businesses or huge organizations. 
Nevertheless, if you are an individual running a side business or are a freelancer looking for an e-signature solution to send out contracts and collect signatures you'll need access to the right e-signature solution for you. 
Take a look at the options below to find the one that meets your requirements. 
2. Xodo Sign (formerly Eversign)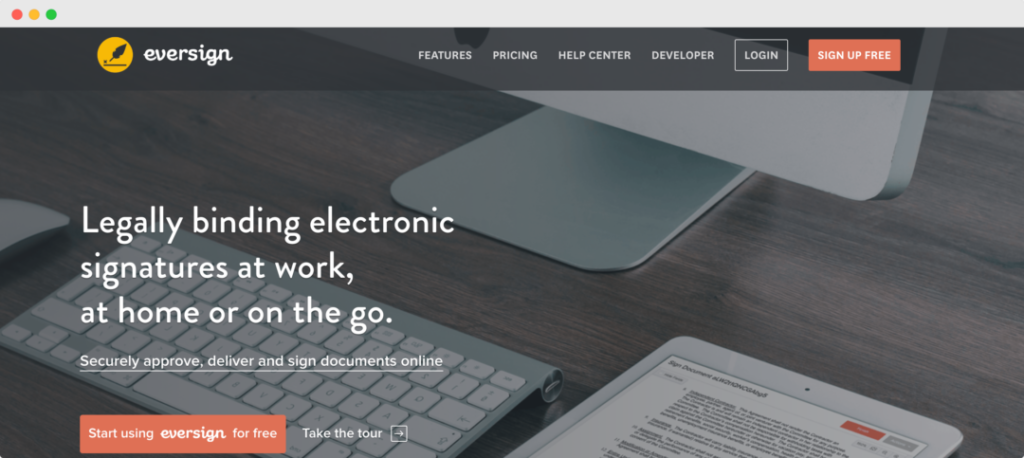 This e-signature software is a top contender because it allows you to send as many documents as you like without paying extra. The platform has API capabilities that let you automate as many as ten documents per month. 
You can even edit your PDFs using the platform's document editor. And in terms of features, you can look forward to robust audit trails that provide the name, email address, IP address, and timestamp for each signature. You can also build your templates; the tools allow you to add dropdown menus or prefilled custom text.
However, if document customization and automation are your top priorities, then you may not be satisfied with the range of features EverSign possesses. The product also doesn't have a mobile app.
The platform's integrations and partners include Evernote, OneDrive, Dropbox, Gmail, Google Docs, Google Drive, Chrome, and Box. The strength of this solution lies in the fact that it is cost-effective and easy to use. In addition, it allows you to form teams of up to 25 people, so EverSign can also be used by small businesses. 
Pricing Plans:
Free Trial
Basic

— $9.99 per month

Professional

— $39.99 per month

Professional plus

— $79.99 per month
2.2 HelloSign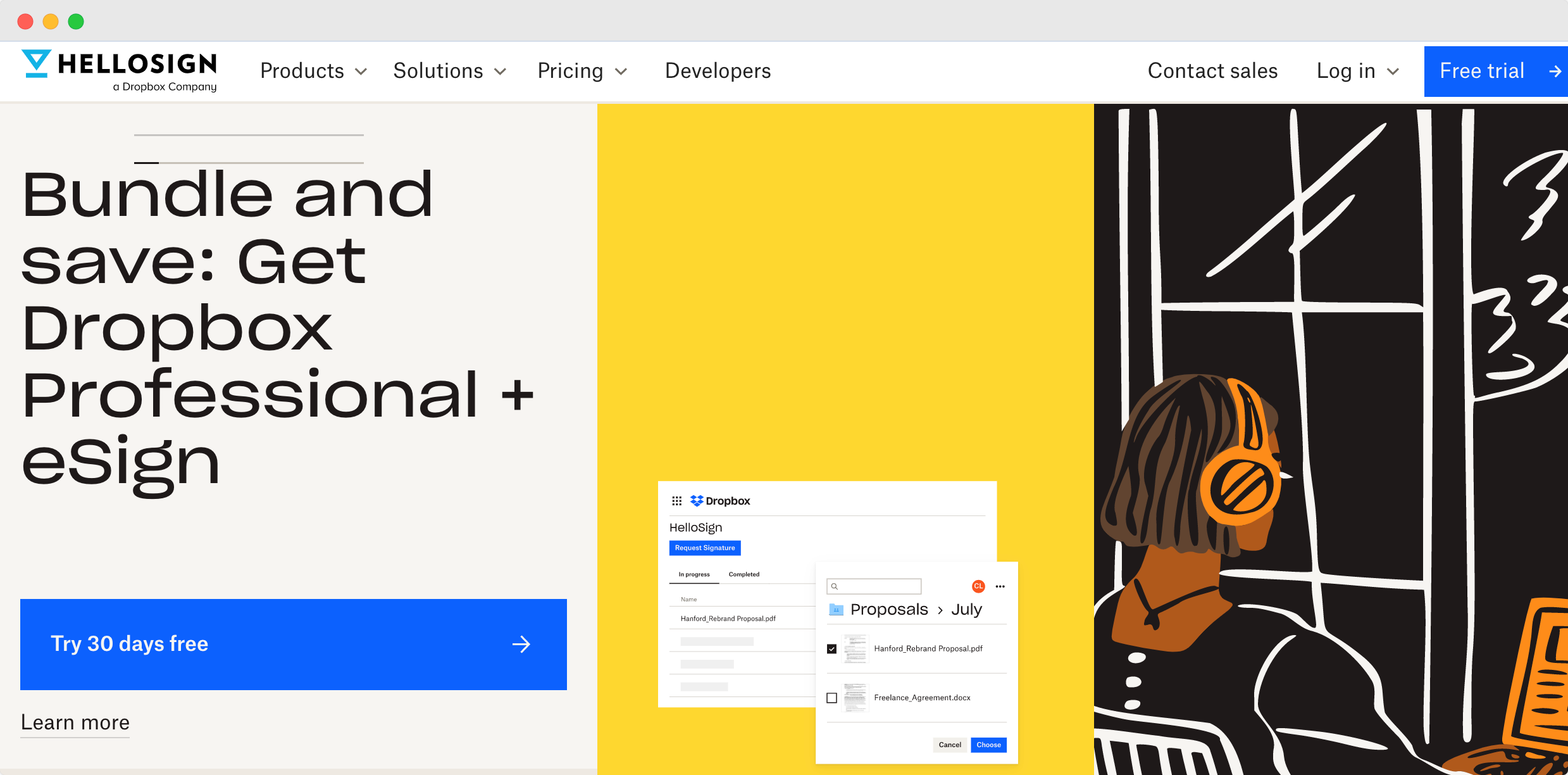 This web-based e-signature platform is easy to use and stands out because it doesn't limit the number of documents you can sign. Also, there aren't hidden terms and conditions that will catch up with you later.
The software complies with various regulations, including HIPAA, GDPR, eIDAS, and the United States ESIGN Act. 
It is also part of the Dropbox series of applications while providing direct connectivity to Google Workspace, CRM, and storage systems. Other integrations include Oracle, Salesforce, OneDrive, TekStream, Sofbang, and TEAM Informatics.
Additional key features include the ability to customize team management and signer processes. You can also integrate e-signatures into your platforms, applications, and website. 
Pricing Plans:
Free Trial
Essentials

— $15 per month

Dropbox Professional + eSign

— $24.99 per month

Standard

— $25 per user per month
2.3 DigiSigner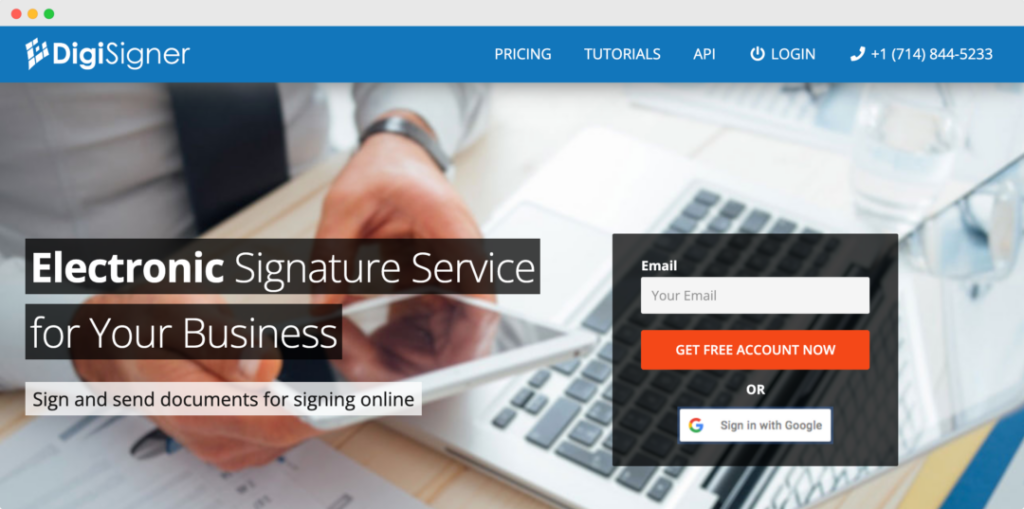 This web-based e-signature platform is ideal if you want something fast and convenient. Sign contracts from anywhere, and use the device of your choice to access it, whether on your smartphone, tablet, or laptop. 
DigiSigner complies with e-signature laws, including the European eIDAS, UETA, and ESIGN. The versatility of this platform extends to having the option of signing PDFs, Word, JPGs, and documents in other file formats. Even better, you can upload as many documents as you like. 
Your signature can also be generated in multiple ways. You can draw it using your mouse, insert a signature image, or type it in as text. All documents are kept safe using SSL encryption.
Pricing Plans:
Free Trial
Pro

— $12 per month

Team

— $40 per month

Enterprise

— On request
2.4 KeepSolidSign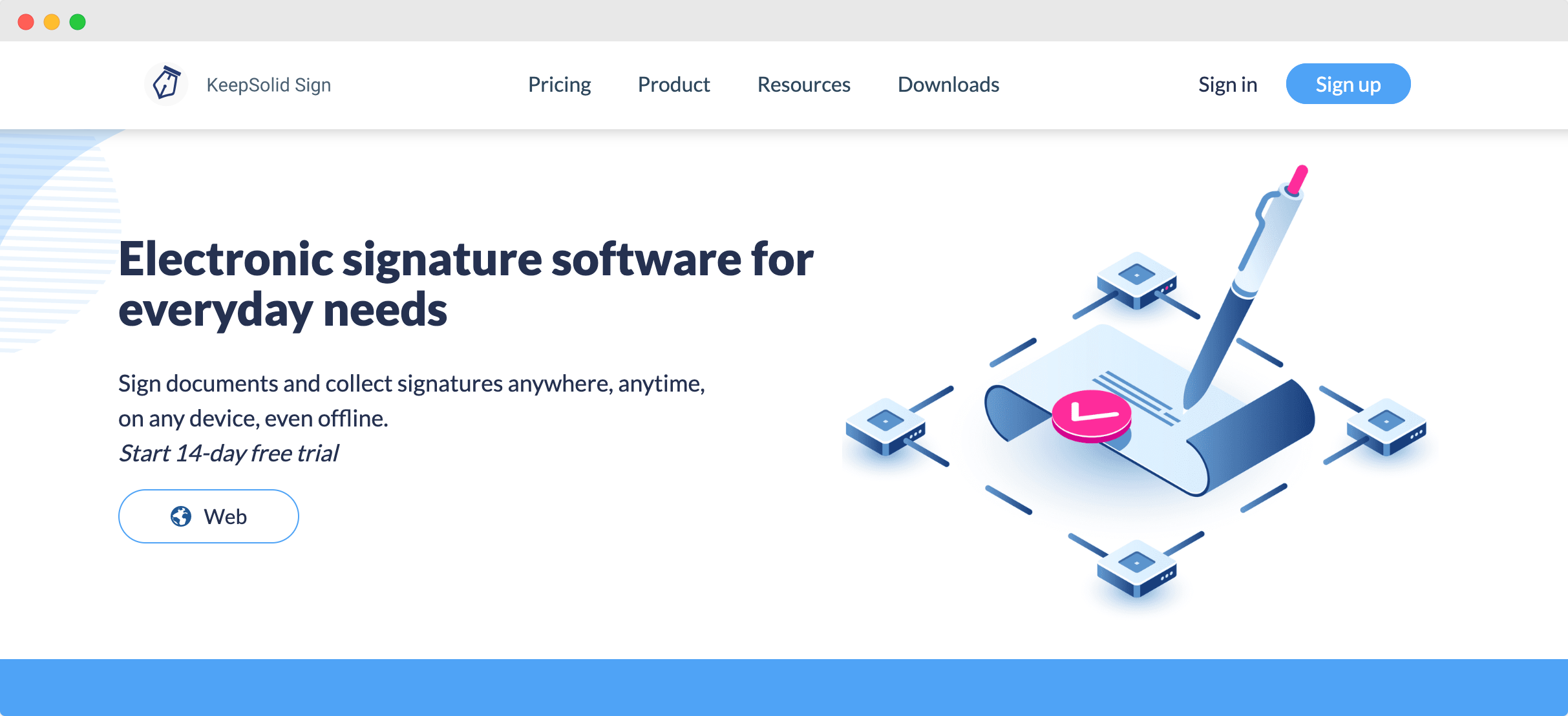 KeepSolidSign is a web-based e-signature technology that lets you conveniently manage the processes involved in the online signing of transactions, contracts, documents, and more. You can choose between cloud or on-site deployment, and users will have no problem working on different devices and keeping their documents synced. 
A unique feature of this software is that you can annotate and sign files even if you're offline. The platform stores everything online, and users can keep track of the document's status by checking the dashboard. The documents are kept safe with AES-256 encryption. 
With a monthly membership, you gain access to FAQs, an email address, and an online helpdesk. 
Pricing Plans:
Personal —

$9.99 per user per month

Small team —

$34.99 per team per month

Big team —

$64.99 per team per month
2.5 eSign Genie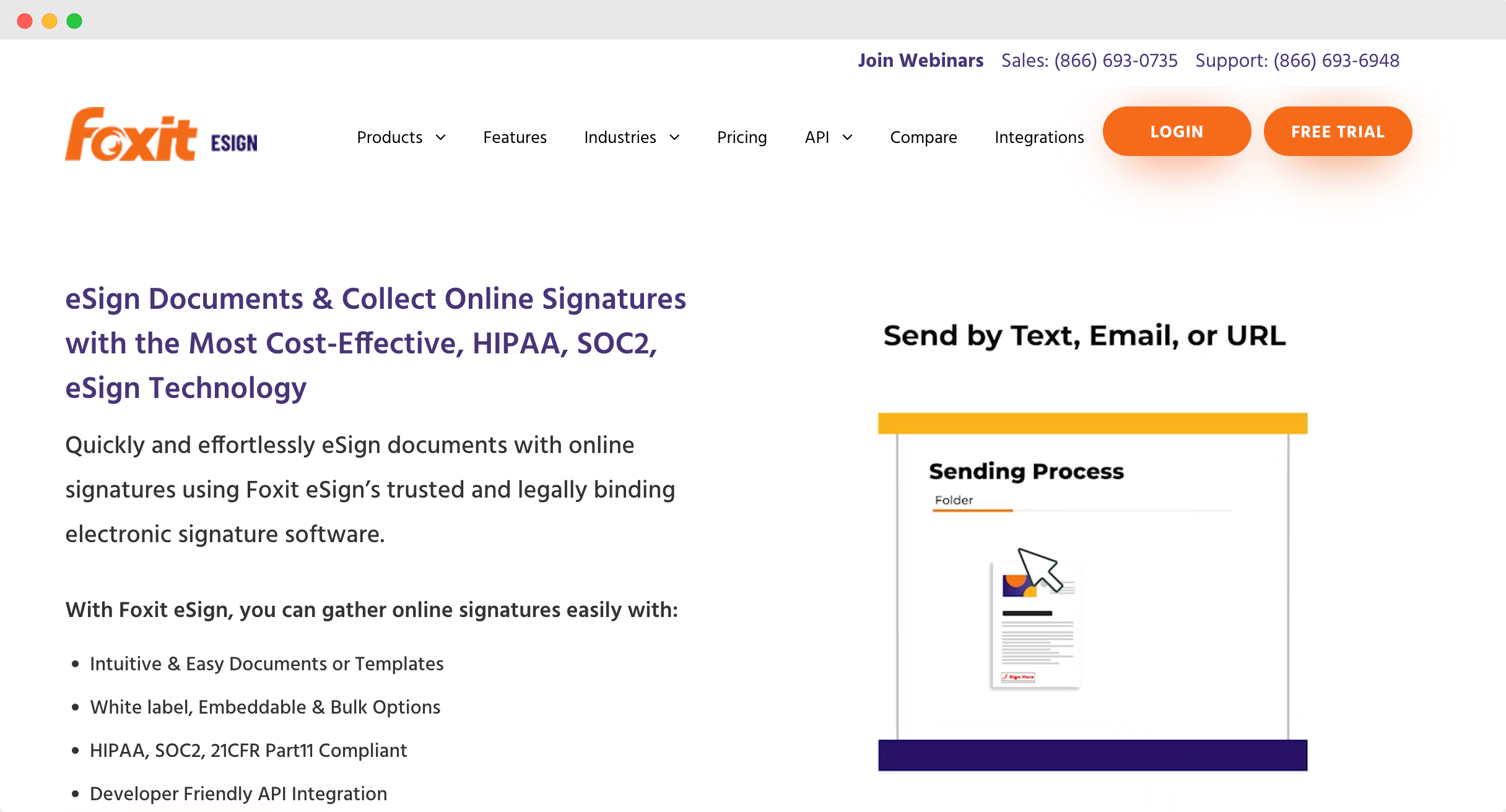 eSign Genie is an excellent choice for businesses looking for an affordable and feature-rich e-signature solution that streamlines document production. With a wide range of plan options, you are guaranteed to find the features you're looking for.
While the low-tiered plans only include the basic features, the Professional plan gives you the option of delegating signers and the ability to sign documents in person. To access HIPAA compliance features or Salesforce Contracts, you must upgrade to the Enterprise plan. Also, note that CRM integrations are limited.
Another nifty feature is the pay-as-you-go option. This is for customers who want to use the platform but know they will only do so infrequently – all the features without all the cost. Other integrations and partners include Box, WordPress, Dropbox, Zapier, Google Drive, and more. 
Below you will find the pricing plans. Please note that Foxit acquired eSign Genie in 2021 and launched Foxit eSign.
Pricing Plans:
Free Trial
Foxit eSign —

$8 per month

Foxit eSign Pro —

$25 per month

Foxit eSign Enterprise —

On request
3. For Entrepreneurs
Starting and running your own business is stressful enough without worrying about daily administrative tasks such as signing documents and keeping track of them. You don't have to invest much energy in this. Many different e-signature platforms will do the job for you. 
3.1 WeSignature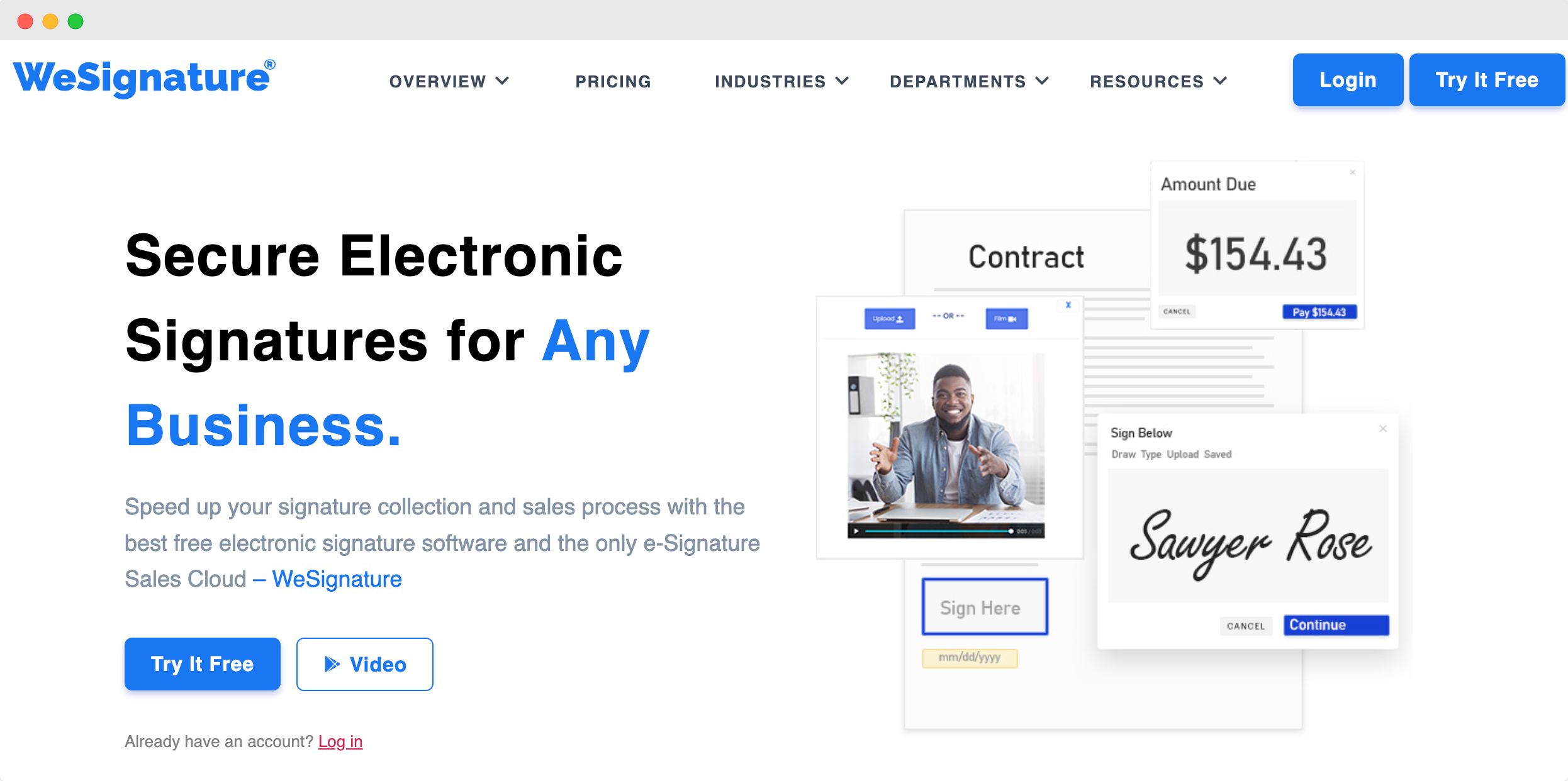 WeSignature is an excellent choice for business owners who want to streamline their sales process with e-signature tools. This Sales Cloud software was created to combine signature gathering with the sales process, allowing users to collect real-time signatures and payments to simplify user procedures.
Their goal was to find a way of collecting real-time signatures as well as payments to simplify user procedures. 
With this platform, users could speed up the finalization of contracts without incurring additional expenses or dealing with long wait periods. And what's great about this platform is that it has a free option that allows you to edit PDFs. You also gain access to a proposal builder with digital signature integration. 
Create e-signatures in Word or PDF documents and maintain the security of your documents thanks to the platform's 256-bit SSL encryption. You can personalize the e-signature requests, establish an audit trail using time stamps, and integrate the platform with your favorite CRM, AMS, and sales platform systems.
WeSignature is also useful for teams or groups. A public signing link can be shared with each person who needs to sign the same document. The sales process is streamlined by automating notifications, reminders, and templates. In addition, professionals can include sales videos or instructive guides. Credit card payments can now be accepted in real-time, and you can even sign SMS text messages. All this makes WeSignature a top contender. 
Pricing Plans:
Free Trial
Starter

— $15 per month

Basic

— $30 per month

Pro

— $60 per month

Enterprise

— $80 per month
3.2 Adobe Acrobat Sign

Adobe is a popular option for editing PDFs and gaining e-signature services, but it's important to focus on security. Acrobat Pro DC, which is packed with sophisticated features, allows you to alter your PDFs as much or as little as you like while ensuring the security of your documents.
Once you are done editing and signing your PDF using the document creation features, you can export it and generate another file type, such as Microsoft Word or Google Drive. You can also personalize the documents by adding your company logo or company branding. Reminders and alerts are sent automatically, so you can always track your document's stage. 
With Acrobat Pro DC, you can collect money, limit who can edit the PDF, and erase or redact confidential information. It can also be integrated with other tools such as Salesforce, Google, Microsoft, Workday, Mastercard, Box, and more. It also verifies users using an automated ID-based signer identity. 
Take note of the fact that while the platform comes with self-service onboarding documents, it's not always easy to understand what the tool's limitations are. 
Pricing Plans:
Free Trial
Standard

— $12.99 per month

Pro

— $19.99 per month
3.3 Signaturely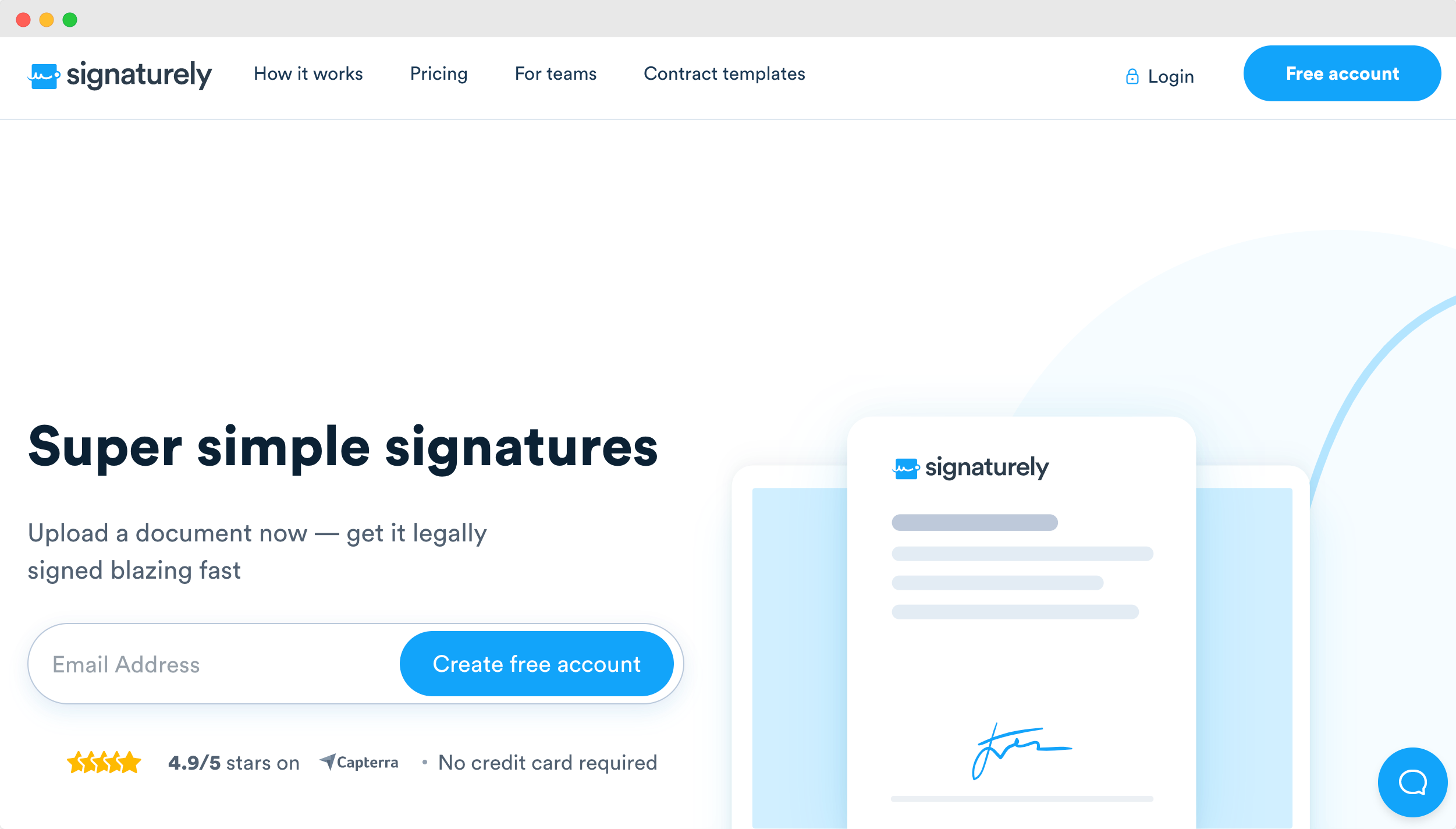 Signaturely emphasizes helping users learn how to use the electronic signature software platform. They explain the signing process in detail, which puts users at ease and speeds up the signing process.
In terms of features, this cloud-based e-signature software includes predefined templates so users can upload their data and take it from there. With automated reminders, you can track which documents haven't been signed and which are still pending. This information is stored in a central repository where managers can view everything. 
When it comes to security, Signaturely has you covered. It stores the name, email address, IP address, and location of every signee via digital fingerprints. This helps managers stay informed about who still hasn't signed. 
If you want to connect to third-party sites, you have the following options in terms of compatibility: OneDrive, Box, Google Drive, Dropbox. You can also get support from their help center via email or phone. 
Pricing Plans:
Free Trial
Personal

— $20 per month

Business

— $30 per user per month
3.4 SignEasy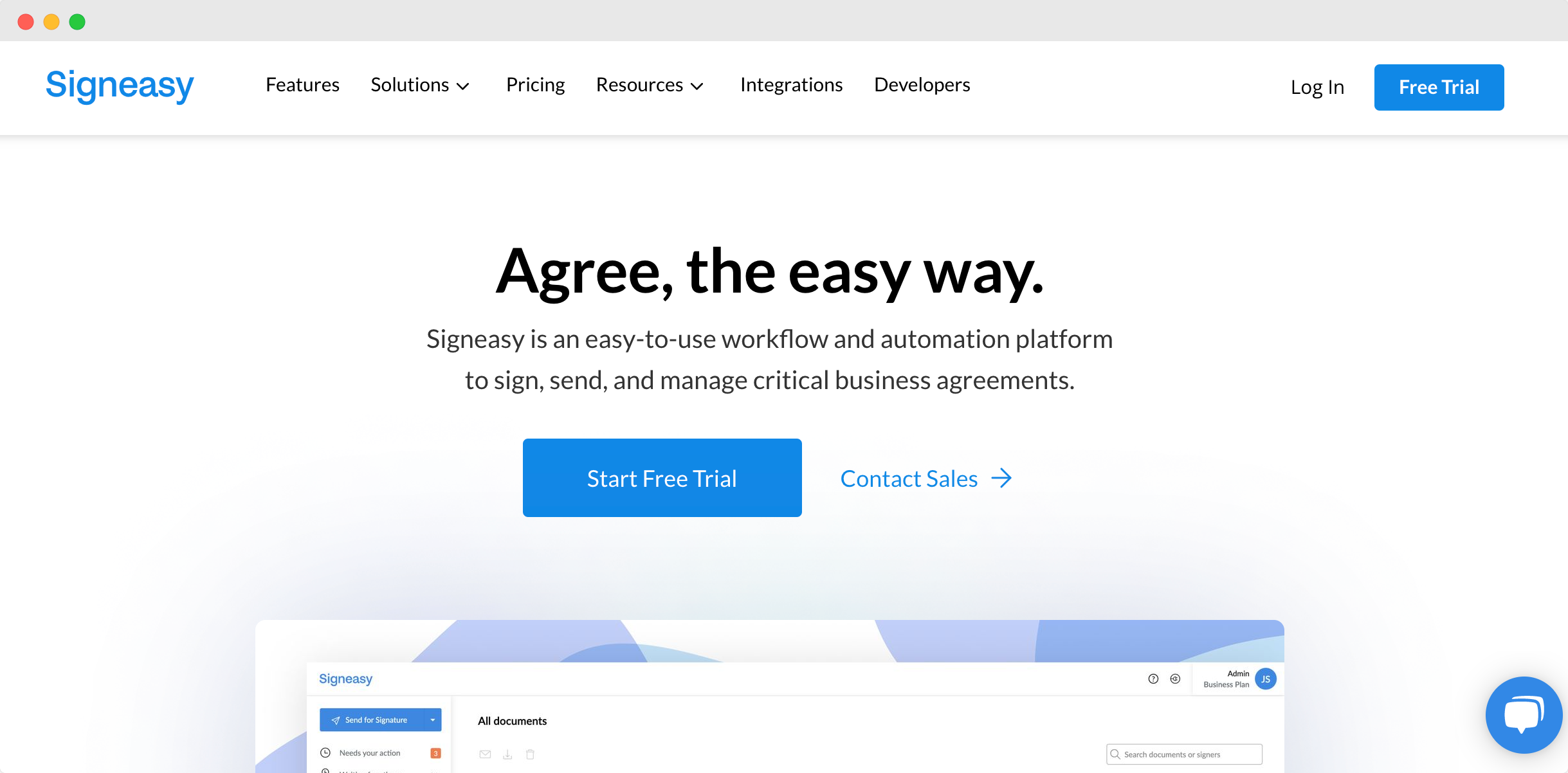 As the name indicates this electronic signature platform makes the daily grind easier. While it only allows one user, you can put your contract manager in charge as they will be able to monitor everything in one place. 
You may not have the benefit of unlimited signature requests, but the service is available across various platforms, allowing you to access it via Mac, Windows, Android, and iOS. The user interface is well-known for being simple and fast, plus it comes equipped with all the functions an entrepreneur would be particularly interested in. 
SignEasy complies with eIDAS and the ESIGN Act while providing more sophisticated security measures such as passcode and fingerprint authentication. In terms of features, you can add text, initials, photographs, annotations, and checkboxes to your documents. Establish a digital audit trail that includes the email, device, IP address, document fingerprint, and time stamp. 
This enables the seamless tracking of a document's stage, with the option of using status notifications. 
The platform can be linked with Microsoft Office, Google Workspace, Zapier, Salesforce, and Freshworks, amongst others. You also benefit from creating professional quality signatures as handwritten signatures appear with a smooth signature interface that makes them legible.
You can work with the file type you prefer (Word, PDF, JPG, PNG, etc.) and even access it in 24 languages. 
So, if you're an entrepreneur looking for an accessible, affordable platform that still gives you a range of functions, this is the one for you. 
Pricing Plans:
Free Trial
Essential

— $10 per user per month

Team

— $15 per user per month

Business

— $30 per user per month
3.5 DocHub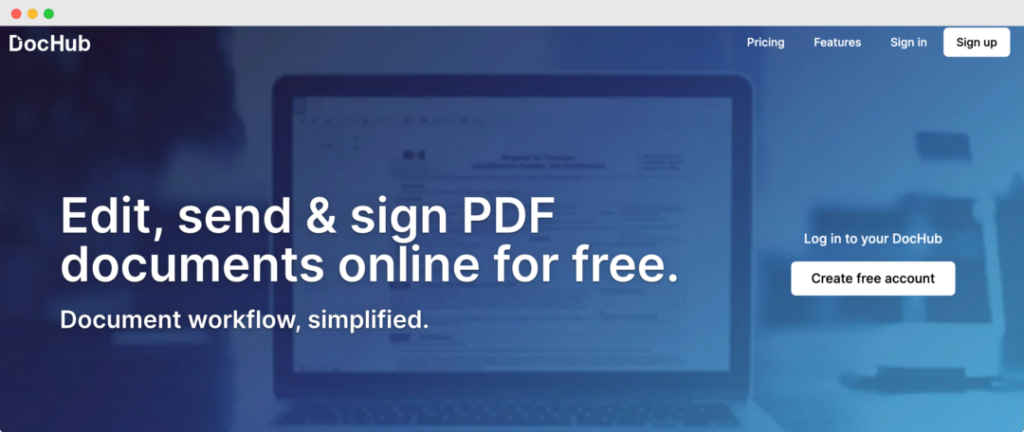 As an entrepreneur, you'd rather have fewer tools that can do more to keep your business environment free from clutter and confusion. That's why it would be ideal to select an e-signature platform that also enables the editing of documents. And with DocHub, this is precisely what you get. 
You can create PDF forms and reusable templates that you can edit when you see fit. Simply import your document directly from your mailbox, drag and drop your signature, and you're done. 
These platforms are geared towards streamlining document workflows, even when there are multiple signers who need to be managed. Your PDF editing abilities include inserting images, annotating pages, merging PDFs, managing and creating fields in the document, and whiteout text. 
The security of this platform is also top-notch, as it has 256-bit encryption, OAuth 2.0 authentication, and additional encrypted storage space. You can share documents with your team anywhere in the world from your DocHub URL and open them directly from Dropbox, Gmail, or Google Drive. 
Take DocHub for a spin with their free trial period, and for only $10 per user every month, you get access to more features that will make editing and signing documents even easier. 
The free option gives you 2,000 documents, five e-signatures, three sign requests, plus a selection of premium tools every month. The Pro plan can be tried for free for the first 30 days, after which you will have to pay to work with unlimited documents, e-signatures, and sign requests, along with more premium tools. 
Pricing Plans:
Free Version

Pro — $10 per user per month
4. For Big Businesses
When companies grow, many moving parts need to be monitored and managed. This increase in numbers and complexity demands software tools that make the relevant processes as simple and smooth as possible. Your company will require an e-signature solution to efficiently support the parties involved in daily contracts, proposals, agreements, etc. Here is a list of the PandaDoc alternatives that should do the trick. 
4.1 SignNow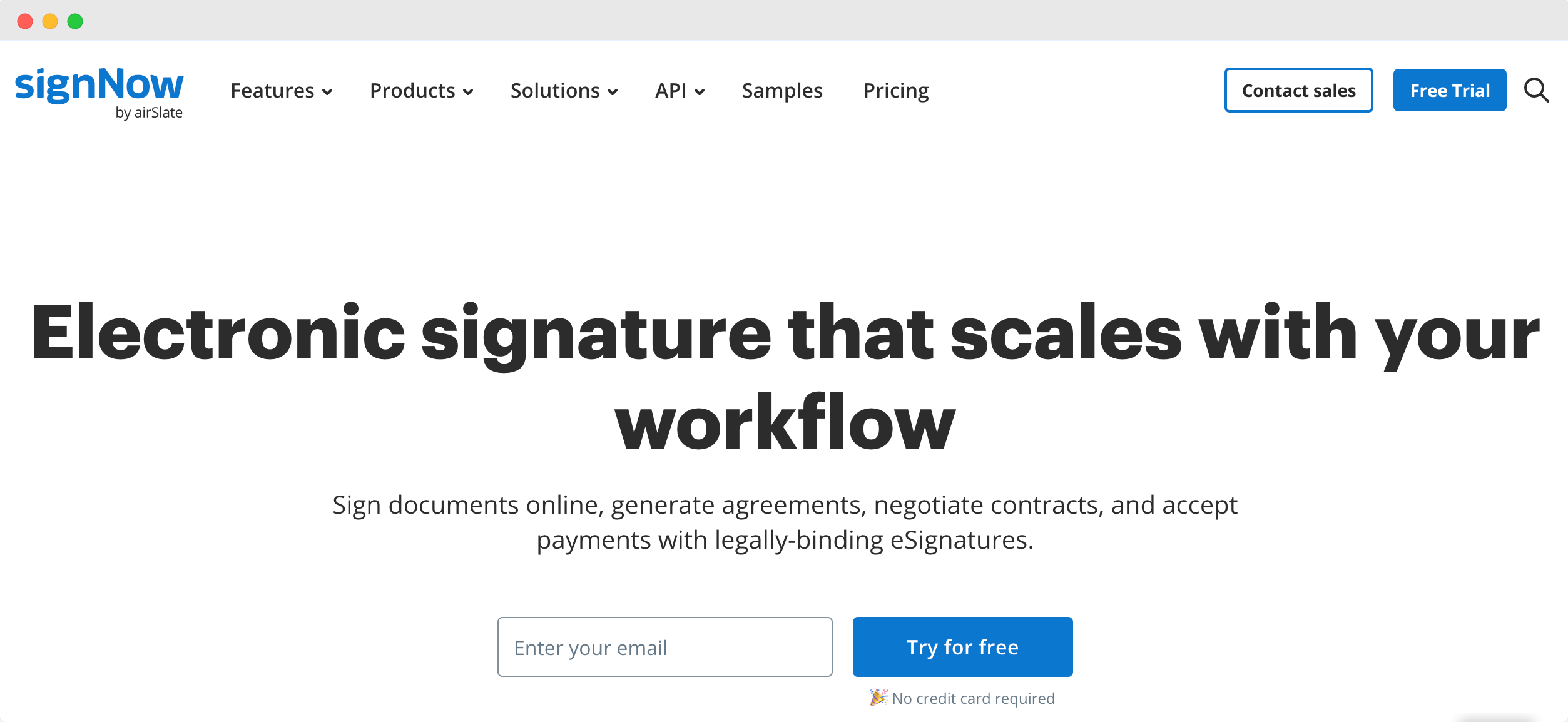 SignNow is a platform that's part of a bigger one known as the airSlate Business Cloud. This e-signature tool can be used as a stand-alone service but also as part of a sophisticated software suite. 
SignNow offers customizable branding options, myriad layouts, and affordable signing link invites. You will have access to a robust API, reusable templates, conditional workflows, speedy document sharing, and more. One of its unique features is the data validation tool. This is used to validate the data entered in the fields on your document before the signed form is sent. SignNow can also be accessed on your smartphone. 
Integrations and partners include Microsoft 365, Microsoft Dynamics 365, Google Workspace, Salesforce, NetSuite, Oracle, Egnyte, and more. 
While SignNow is desirable because it's so cost-effective, you must realize that you will miss out on other features that different services offer. In this case, automation and the management process lack functions. 
Pricing Plans:
Free Trial
Business —

$8 per user per month

Business Premium —

$15 per user per month

Enterprise —

$30 per user per month
4.2 SIGNiX
If your company has to comply with an endless stream of regulations, then this is the platform for you. Companies that work in wealth management, real estate, or healthcare always make complex agreements requiring online notarization and digital signature software.
SIGNiX offers MyDoX for digital signatures alongside eNotary, which is used for notarization. Other features include security via legal evidence embedded in each signature, the option of a white label where the digital signature is integrated into your company's applications, and US-based customer service. 
With SIGNiX, you also have enhanced privacy, and every signature is captured, so there is legal evidence of its existence. This cloud-based platform allows customers to sign documents from their mobile devices and desktops without downloading or installing anything. 
You can even track the document with ease thanks to MyDotX's document tracking tool. Now you can locate the document wherever it may be, and the platform will automatically send out a reminder to your customer if they forget to sign. 
If you are an enterprise, you will have a customized plan based on your specific needs and size. 
Pricing Plans:
Free Trial
Standard

— $10 per month

Team

— $20 per month

Enterprise

— On request
4.3 Secured Signing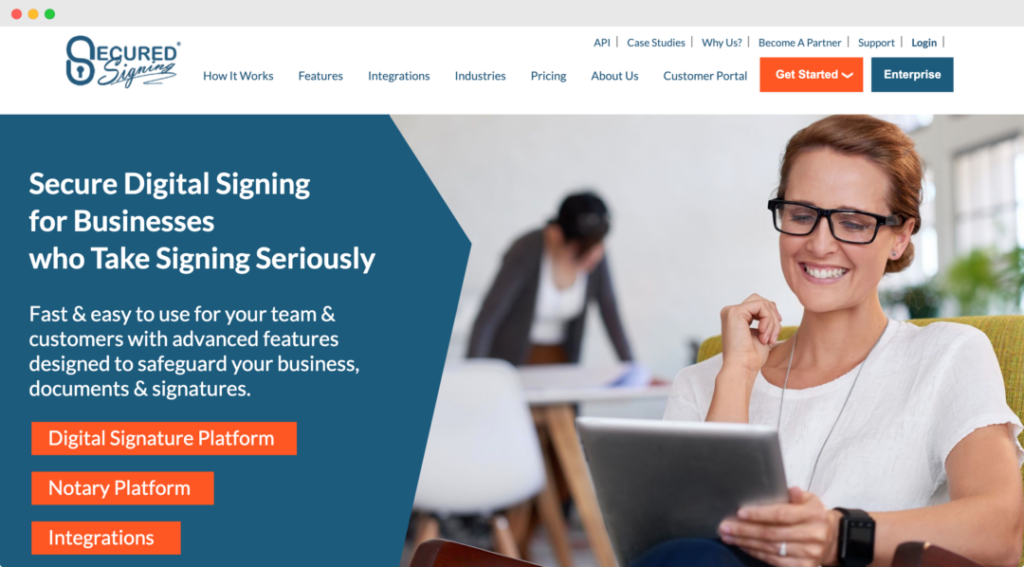 This cloud-based e-signature tool focuses on making the management of electronic signatures as simple and effective as possible. It has been used in many industries, including real estate, finance, and education. 
Send customers email invitations to sign the document and create additional fields on the document to help them complete it. You can also set up reminders to encourage customers to finish the document. Online invitation services simplify the process by allowing customers to sign the document conveniently from their device, while you track their progress in real time.
Secured Signing is versatile as you can add digital signatures to Word documents and establish approval processes. Recipients have an additional option where they can change or add text to the document before signing. And if you want to have a document signed face-to-face, participants will verify their identity via an SMS code and sign on the screen. 
The dashboard provides customers with additional information to make the process more pleasant and efficient. For example, users can see how long it will take to complete a form. They can also download copies for their own records. Users have access to assistance through an online ticketing system, plus they have an online knowledge base that can be used via phone or email. 
Secured Signing can be connected to Salesforce, Realme, and Microsoft Dynamics 365. There is a free trial period, and if you want access to all the features, you will need to purchase a plan, which will depend on the number of users and documents per month. 
4.4 GetAccept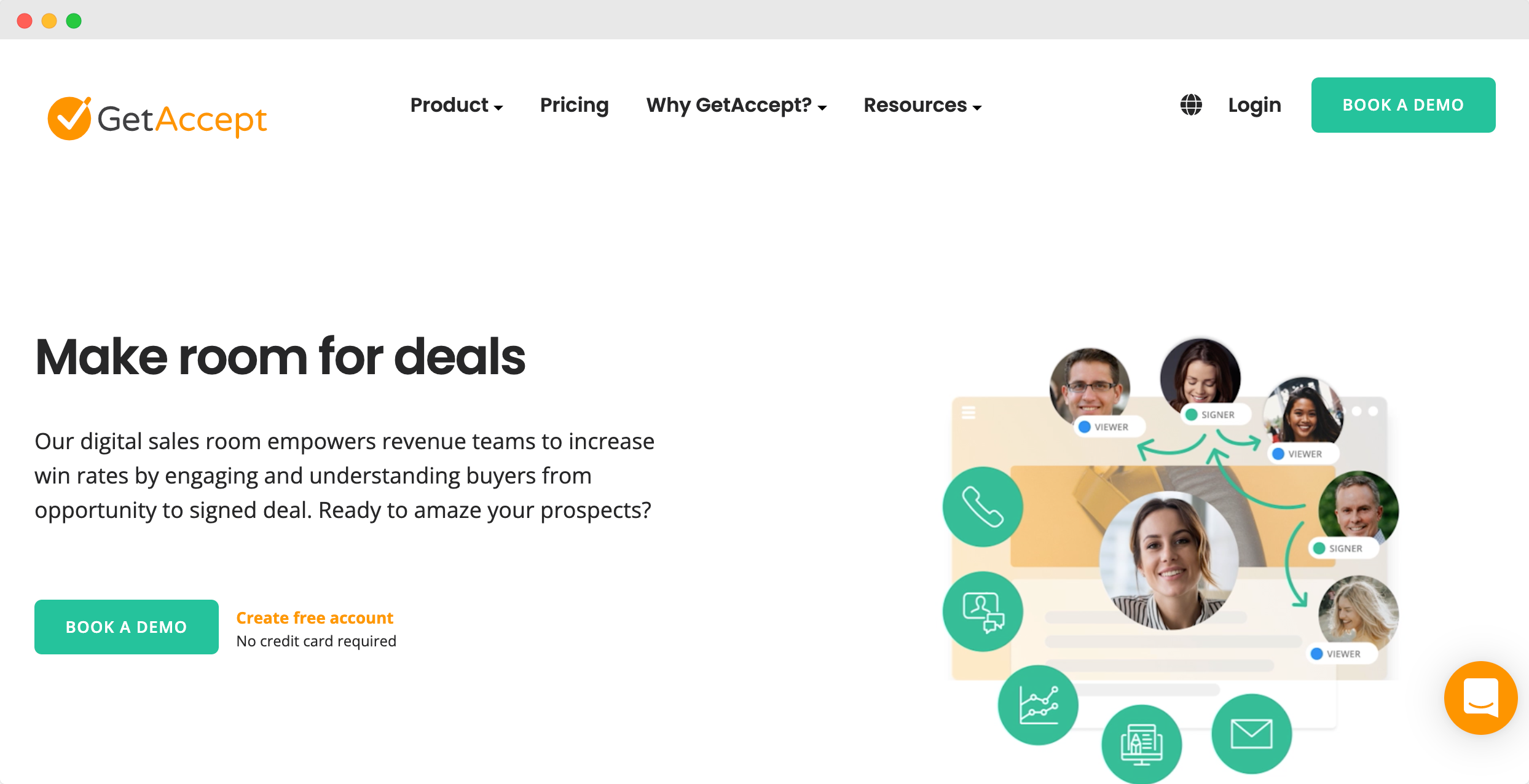 GetAccept is a software solution geared towards sales professionals. By automating the sales documentation process, sales professionals have the time and resources to provide customer support. 
GetAccept has some excellent features, including enabling sales professionals to add video presentations to their proposals and having access to a live chat option. You can also access this service on a mobile app for both iOS and Android.
With their document analytics tools, sales professionals can track when a document has been accessed and how many times it was looked at. They can even determine which parts of the document were viewed the most. 
Another beneficial aspect of this e-signature software is that marketing automation and CRM systems can connect via GetAccept's integrations. Their other integrations and partners include Microsoft Dynamics 365, HubSpot, Salesforce, SuperOffice, Changebee, and Pipedrive. 
Finally, GetAccept will ensure all documents comply with signature laws such as UETA, ESIGN, and eIDAS. You can also guarantee that documents are signed correctly by including signing sequences and mandatory signing fields. 
Pricing Plans: 
Free Trial
Essential—

$15 per user per month

Professional —

$49 per user per month

Enterprise + —

On request
4.5 OneSpan Sign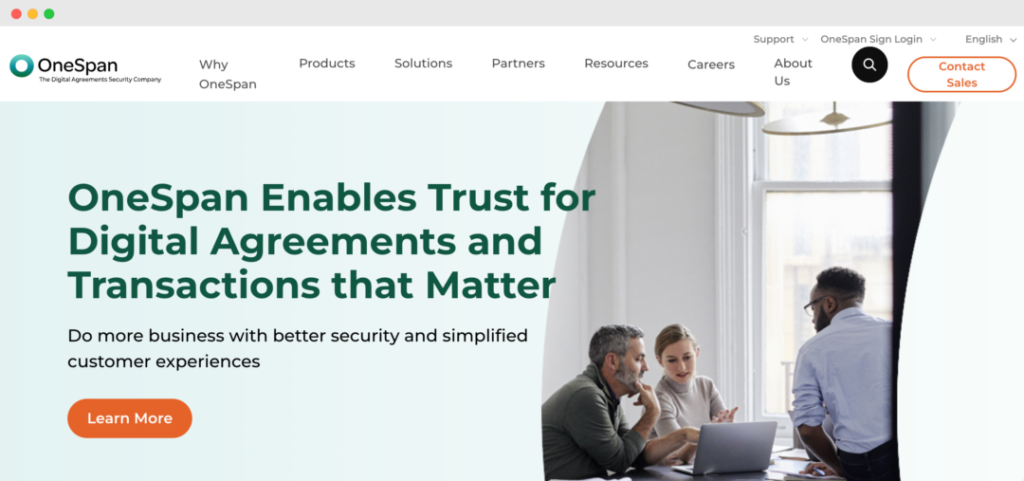 If you're an enterprise looking for a range of user verification choices or a white-label solution for electronic signatures, then OneSpan Sign is a good option. This web-based electronic signature solution is both scalable and highly versatile. 
First, you can access deployment options from on-premise, public cloud, private cloud, or even a mixture. The company is also known for its focus on compliance and security, as it has been used by enterprises such as NASA and IBM. 
Security compliance includes HIPAA, SOC 2Type II security audit, and FedRAMP Cloud compliance. Your account can be verified via SMA, email, or Q&A.
Authentication occurs through the face and fingerprint biometrics, derived credentials, and personal digital certificates. 
Companies can customize their branding using a white-label e-signature process that places the brand front and center. This has been shown to boost completion rates. Integrations include SharePoint, Salesforce, and Dropbox, amongst others. All these features make Onespan Sign perfect for big businesses. 
Pricing Plans: 
Free Trial
Professional —

$20 per user per month
4.6 RightSignature

Companies that are not especially advanced in technology will consider RightSiganture as their e-signature software. It's easy to set up and doesn't require installations or app downloads, making it more complicated. RightSignature can also be integrated with your current workflows for added convenience.
With this software, businesses can send documents to separate parties, create and share templates, send more than one document at once, and arrange to have the document signed in a specific order. The advanced plan also offers team statistics, asking for signer attachments, and custom branding. 
Further key features include a complete audit trail that provides biometric data collection, 256-bit SSL encryption for security, document branding, and the ability to create fillable forms with automated field recognition. 
RightSignature works on Mac, PC, iPhone, iPad, and Android. It also integrates with Box, Basecamp, Capsule, Citrix ShareFile, and Citrix Podio. One weakness of this software is its inability to connect to a range of tech. It also doesn't have many features as rich as other options.  
Pricing Plans: 
Free Trial
Standard

— $12 per user per month

Advanced

— $60 per month for 3 users
4.7 DocuSign
This leading e-signature solution is popular in businesses thanks to its user-friendly design and connection abilities. You can easily integrate this software with other platforms you are already using, such as Microsoft, Salesforce, Google, Zoom, Oracle, Apple, Workday, SAP Solution, and many others.
Their proposal product and service is DocuSign Agreement Cloud, enabling you to create documents that can be signed and managed in one location. Now you can produce and automate various functions, including e-signatures, eNotary, payment collection, proposal approvals, agreements, and negotiations. 
DocuSign has over 350 prebuilt integrations, simplifying team collaboration since you can integrate with Google Drive and create signatures in Google Docs. This way, teams can send and receive important documents as needed. Signers also have the option of adding comments and attaching supplementary material.
You can customize your connections using the platform's API access and webhooks. However, you can only transmit a set number of documents using "envelopes." 
Pricing Plans: 
Personal

— $10 per month

Standard

— $25 per user per month

Business Pro

— $40 per user per month

Enhanced Plan

— On request 
How to Pick Your PandaDoc Alternative
Whether you are in a large corporation looking to improve their document approval workflow and pull audit reports, a person signing documents electronically now and then, or an entrepreneur interested in a basic plan that provides contract templates or proposal management software, there is a solution for you.
The most important consideration is whether the solution guarantees legally-binding e-signatures and the necessary security to ensure a smooth and secure customer experience, so that you never have to call on legal teams. Beyond this, the cost and features of the platform will be determined by your specific needs:
Do you require multi-party signing abilities?

Do you want to create custom templates, or will pre-made templates suffice?

Do you need contract management software that enables content management and provides a notary service? 

Are you interested in annual plans, individual plans, or pricing plans that are more customized to your context? 

Are you comfortable with a simple plan, or are you looking for an advanced solution with advanced features to speed up the process? 
Make the Signing Experience Easy with DottedSign
If you are part of a small organization or own a small business and want an affordable solution that is a great alternative to PandaDoc, you simply can't do better than DottedSign. 
Trusted by business users across industries worldwide, DottedSign is a smart and secure eSignature solution.
The user interface is appealing and accessible. DottedSign's focus on mastering the fundamentals of the e-signing process has delivered a product that gives you everything you need for daily e-signature activities. 
Sign up for a free 14-day trial to experience DottedSign and see how we help you grow your business. 
Close Deals with DottedSign
Accelerate the buying process more effectively!
Start Now