What Are Digital Certificates? 
We aren't strangers to working remotely and completing tasks outside of a traditional office setting. Due to the pandemic, a lot of work once done in person is now online. This new work environment does, however, raise questions about security.
This is particularly relevant when signing business documents, legal documents or any other documents that require public trust online. It's vital that we can be sure the digital documents signed are well protected throughout the signing process.
DottedSign makes the process airtight thanks to its inclusion of a digital certificate on any contract signed through the service. As our CEO and founder, Kenny Su, puts it, "In order to maintain social distance while remaining productive, these companies need to be able to trust that contracts they're getting signed are safe, secure, and enforceable. DottedSign provides this peace of mind."
Integrating digital certificates to the signed digital documents allows users to be sure of the document's integrity and completeness. It also allows users to secure sensitive information and create a sense of trust between different parties.
What is a Digital Certificate?
A digital certificate, also known as public key certificate, serves as a specific digital marker that indicates that one of its primary functions is to confirm that the signing process took place in a secure environment that allows for strong encryption. For qualified certificates to appear on electronic documents, no changes can be made to the language of the document after all the various parties have signed. This means that the terms outlined in the document stay set in stone no matter what. 
Public key certificates are issued by trusted certification authorities (CAs) and play a crucial role in secure communication, identity verification, and establishing secure connections over the internet. These certificates contain information about the certificate holder, including their public key, and are digitally signed by the CA to ensure their authenticity. With encryption algorithms integrated, public key certificates prevent tampering from hackers and other malicious parties, while also validating the digital credentials of individuals or organizations. The trusted certificate authority acts as a guarantor, and is commonly referred to as the CA.
DottedSign's digital certificates are added thanks to our partnership with a Certificate Authority (CA) under Adobe Approved Trust List (AATL). According to Adobe, "AATL is a program that allows millions of users all around the world to sign digitally using trusted digital IDs. Certificate authorities and trust service providers (TSPs) on the list issue certificate-based digital IDs and the certificate timestamp services that are used to comply with the most stringent legal and regulatory requirements in the world."
If you're curious about how the digital certificate has been applied, you can download the completed document from DottedSign and open it up in Adobe. When you open the document, you should see a small green "tick" mark indicating that the electronic signatures are valid and complete.
Digitize Paper Agreements
Super convienient & easy
Time-saving solution
Go paperless with e-signature
Why are Digital Certificates Vital for Digital Signatures?
Digital certificates are absolutely essential for electronic document signing for a number of reasons, not least of which is to build customer trust. When dealing with any type of internal or external communication, companies often run into situations that make it necessary to enact stronger security measures. In particular, companies involved in any sort of business transactions, payment transactions, e-commerce, or online communication may encounter security issues that make such certification necessary. There is a need of code signing certificate to assure the integrity and security.
One key benefit of securing documents with a digital certificate is the added layer of security it provides. The use of a digital certificate ensures that the document remains unaltered and displays a green checkbox when being viewed. This checkbox can only be viewed if the document has not been altered in any way since it was signed by all parties. This means someone with malintent could not tamper with the document without it being detected. The digital certificate would no longer be valid, and the attempt to change the digital signature, terms, or other elements, would be thwarted. If the document is found to be altered in any way after it has been signed, that document can no longer be used for any legal purpose. This also prevents scammers from using your signature against you. At this stage, you may implement inventory management software that ensures accurate tracking of inventory related to physical or digital products associated with e-signatures or digital certificates.
Furthermore, digital certificates allow for a greater sense of trust between sender and receiver. When dealing with digital communication, it is important that everyone trusts each other. As a buyer, you must trust that the online shop will provide you with the product or service that you have requested. The shop must then trust that you will pay for it and leave a fair and honest review on their site.
In such situations, providing tangible proof that the document is secure will considerably strengthen trust between both parties. This makes it more likely that the other party will want to continue to do business with you.
Considering replacing your paper-based signature process? Book a demo with us to explore what DottedSign can do to optimize your signing flow.
Understanding What the Digital Certificate Entails
In order to conduct a certificate checking process, begin by completing a signing task using DottedSign. Make sure your electronic credentials are accurate before completing the process. You can use either the mobile or web version for this.
Next, download the signed document or the audit trail.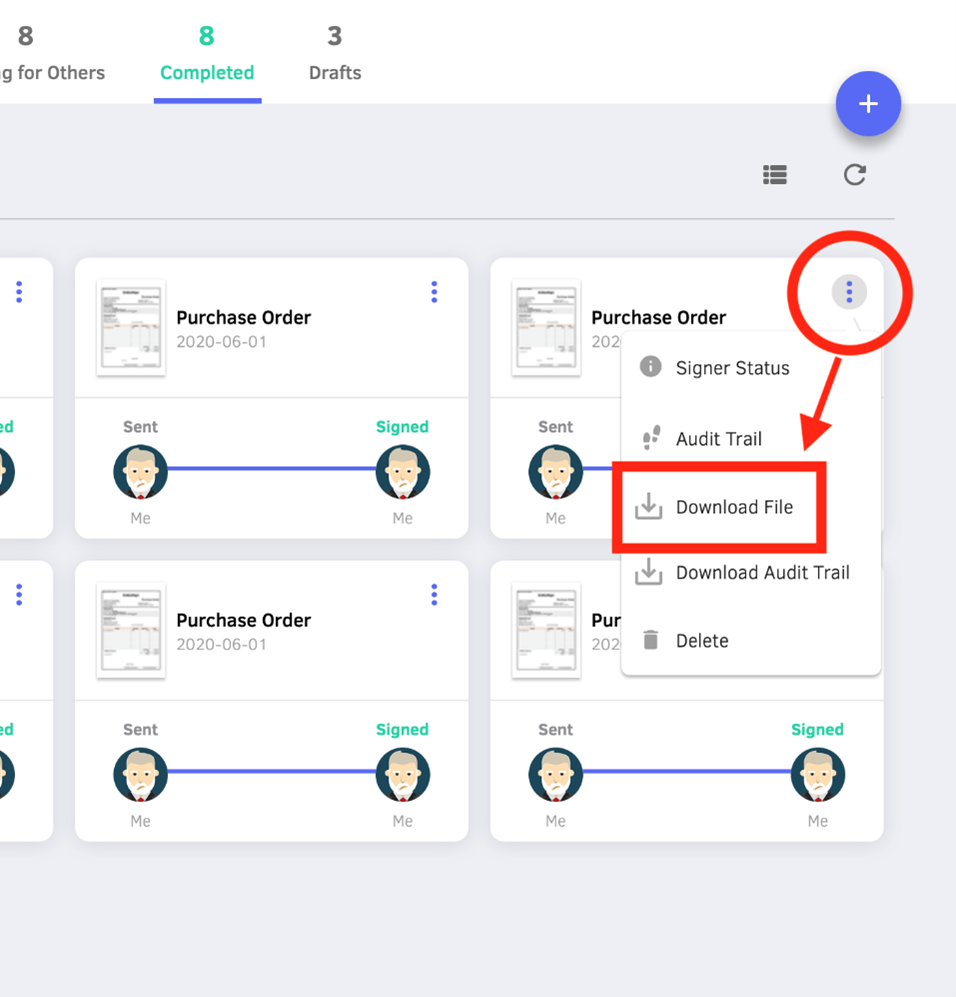 Open the PDF file in Adobe Acrobat.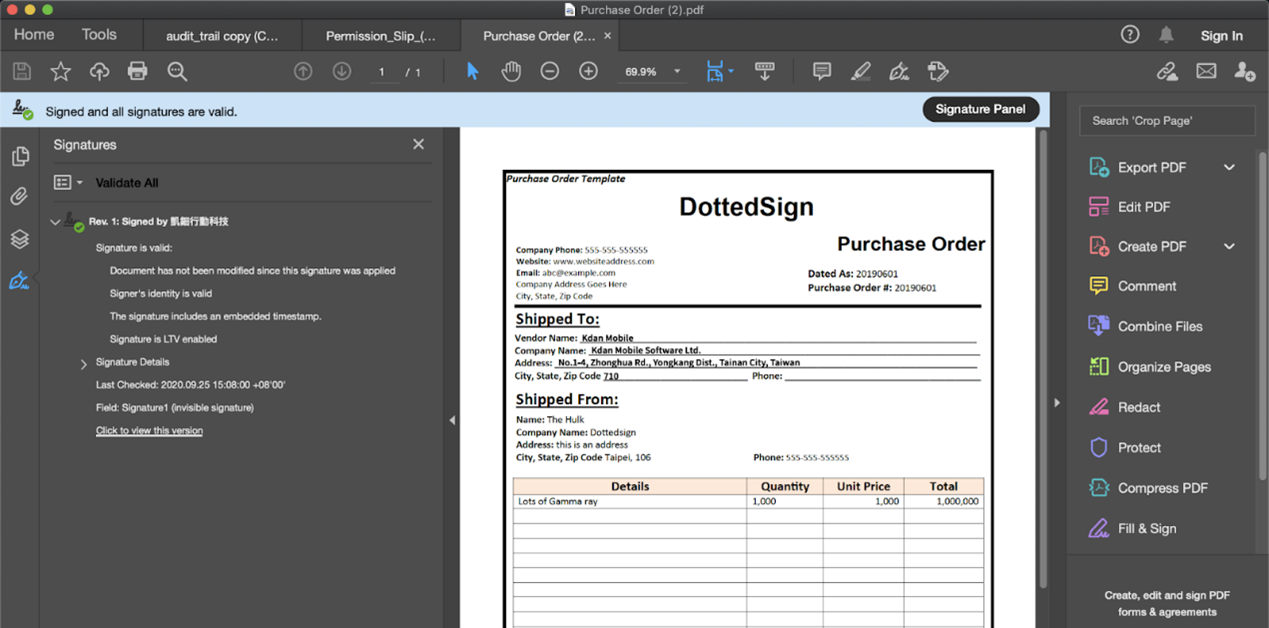 When you open the document, you should see the certificate with the green tick mark. You will also see the title, which indicates that the document has been signed and that all signatures are valid. In addition, you will see the certificate body, which guarantees that the document has strong encryption and has not been modified after signing. Lastly, there will be an embedded third-party certificate timestamp.
With qualified digital certificates issued to signed documents, DottedSign safeguards safety and security for signers.
Retrieving the Document and Audit Trail
Just like the signing of documents, retrieving the completed contract is made easier with DottedSign. Everyone involved in the contract, including those cc'd on the email communications, is automatically sent a final PDF of the signed document for easy download.
You can retrieve the document through DottedSign if the emailed copy was accidentally deleted or lost. You need only to go into the "Completed" section of DottedSign to see all of your finished documents waiting for you to either view or download.
You'll also have the option to retrieve the digital audit trail. Circumstances may arise where you need to demonstrate a particular step in the signature process, from the contract's creation, to when each party viewed and/or signed it. With the audit trail, you'll have a meticulous digital record that spans from the time the document is created to when it's signed by each party involved.
DottedSign Cares About Your Digital Security
When it comes to finding the right electronic signature solution for your team, digital security is everything. In addition to the digital certificate, DottedSign makes use of additional security measures at various stages in the signing process. This is to protect you, your team, and anyone from whom you request a signature.
Member Identity Verification
This is the first layer of defense against unauthorized access to the account and the documents. Any user who wants to collect signatures from clients, business partners, employees or any counterparts, one must first verify one's identity by signing in with a DottedSign ID.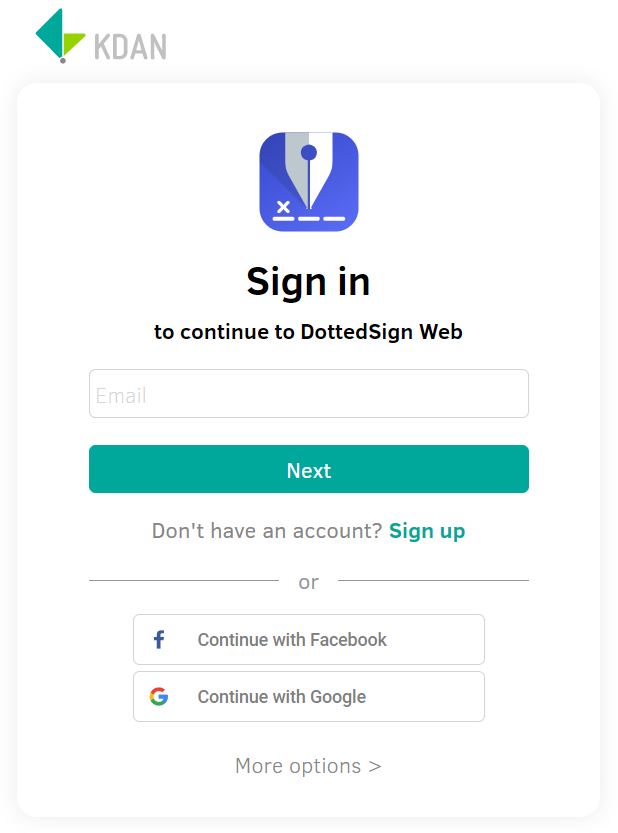 One-Time-Password (OTP)
As the contract creator, you also have the ability to include an additional security measure for your signers' legal identity when you send documents out. The OTP, or one-time-password, is another way we help you authenticate the signer's identity.
When you select this option, we issue a one-time-password through either SMS or email to the recipient that he or she must enter into DottedSign when signing the contract.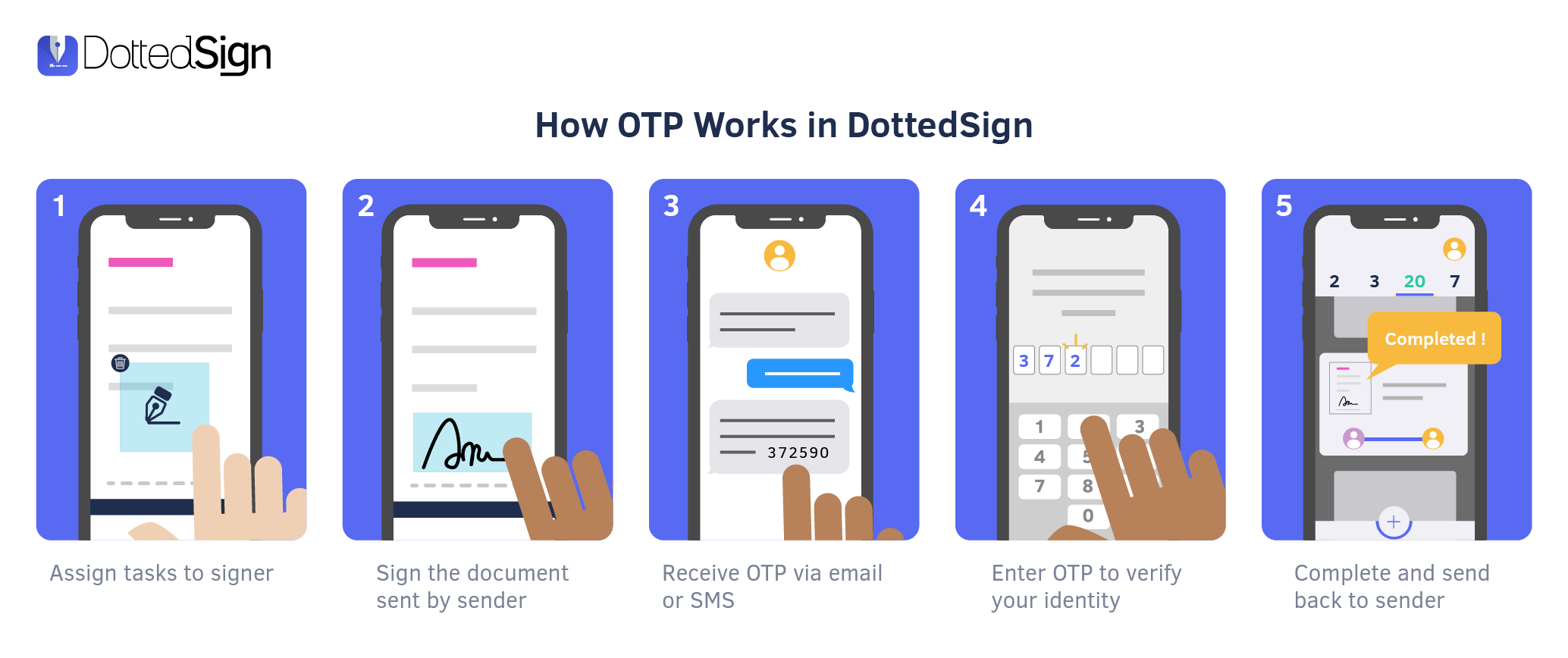 App Lock
For professionals who conduct business primarily on smartphones, DottedSign offers distinctive levels of security to protect their account from unauthorized access. This is accomplished by enabling the app lock feature. You can restrict access to DottedSign on the mobile app by requiring a password to prevent unauthorized signing.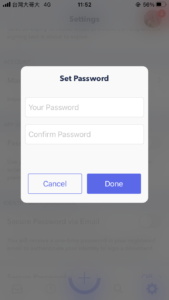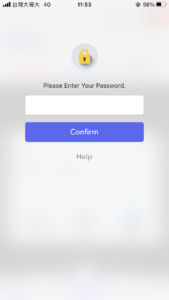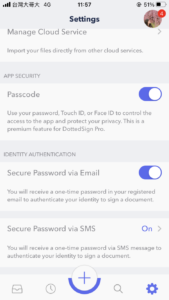 Use App Lock to set your passcode and take control of the access to the app.
Audit Trail
The audit trail records all signers' actions to the document to ensure its non-repudiation and the legal evidence. It captures each step along the way by recording the date, time, device used, signing method employed, and the IP address. This record is stored inside of DottedSign for retrieval if questions ever arise about any step of the signature process.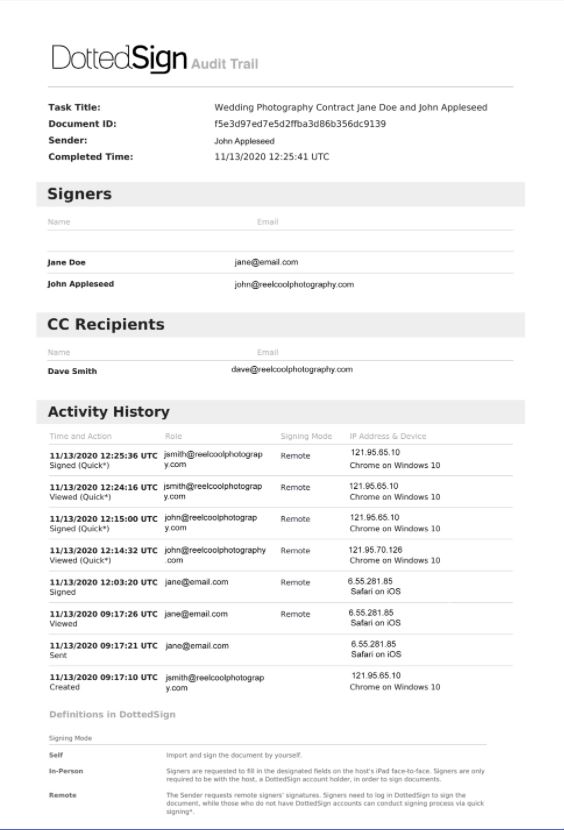 Example Audit Trail
Encrypted Process
In addition to prioritising a user-friendly experience, DottedSign offers advanced validation levels to ensure the highest level of security for its users. To ensure that your documents are delivered safely to their intended recipient, DottedSign makes use of TLS/SSL, AES-256, and RSA-2048 encryption. Individual users can thus be assured that they are signing in a safe and trusted environment.
We are keeping up with industry standards and best practices in order to provide users with high-quality service with digital security at the top.
Sign Your Documents in a Safe and Secure Way Anywhere
At DottedSign, we prioritize digital security, especially when it comes to online transactions. Our team is not only dedicated to delivering a quality user experience but also committed to assisting companies worldwide in operating efficiently and securely during these uncertain times.
We've seen the surge of documents signed with DottedSign has increased 300% since the start of lockdowns – meaning workers are appreciative of a solution that lets them provide their signatures from the safety of their homes. Not only does DottedSign free users from needing to provide a physical signature, it also gives them peace of mind. Users can sign documents just as they always have, except now using a mobile device and a browser instead of a pen and paper. Discover more key features with DottedSign today!
Boost Efficiency with DottedSign
Reduce admin time & focus more on business growth!
Start Now