Cyberbiz Saves 16x Manpower on the Signature Process
How much time do you and your team allocate per day or per week to preparing paper contracts for signature? How long do you have to wait for those documents to get signed? If you're like a lot of companies, you could be waiting as many as five days to receive a signed document, according to Finance Online. DottedSign is helping companies like Cyberbiz sign documents online and recapture lost productivity.
As one of the top solution providers in the Taiwan eCommerce industry, Cyberbiz helps over 20,000 business clients conduct their business online by facilitating the process of the online store integration, the cloud-based POS (point of sale) and warehouse management solutions. They made the switch to DottedSign to cut down the time spent preparing contracts and tracking down signatures as they scale their operation.
Cyberbiz sought us out because their clients usually had one of two problems:
They were anxious to begin the integration process.
The contracts were getting lost in the shuffle and deadlines were being missed.
Some issues with the workflow even resulted in the process having to be restarted.
Transform the Signing Process from Paper-Based to Online Signing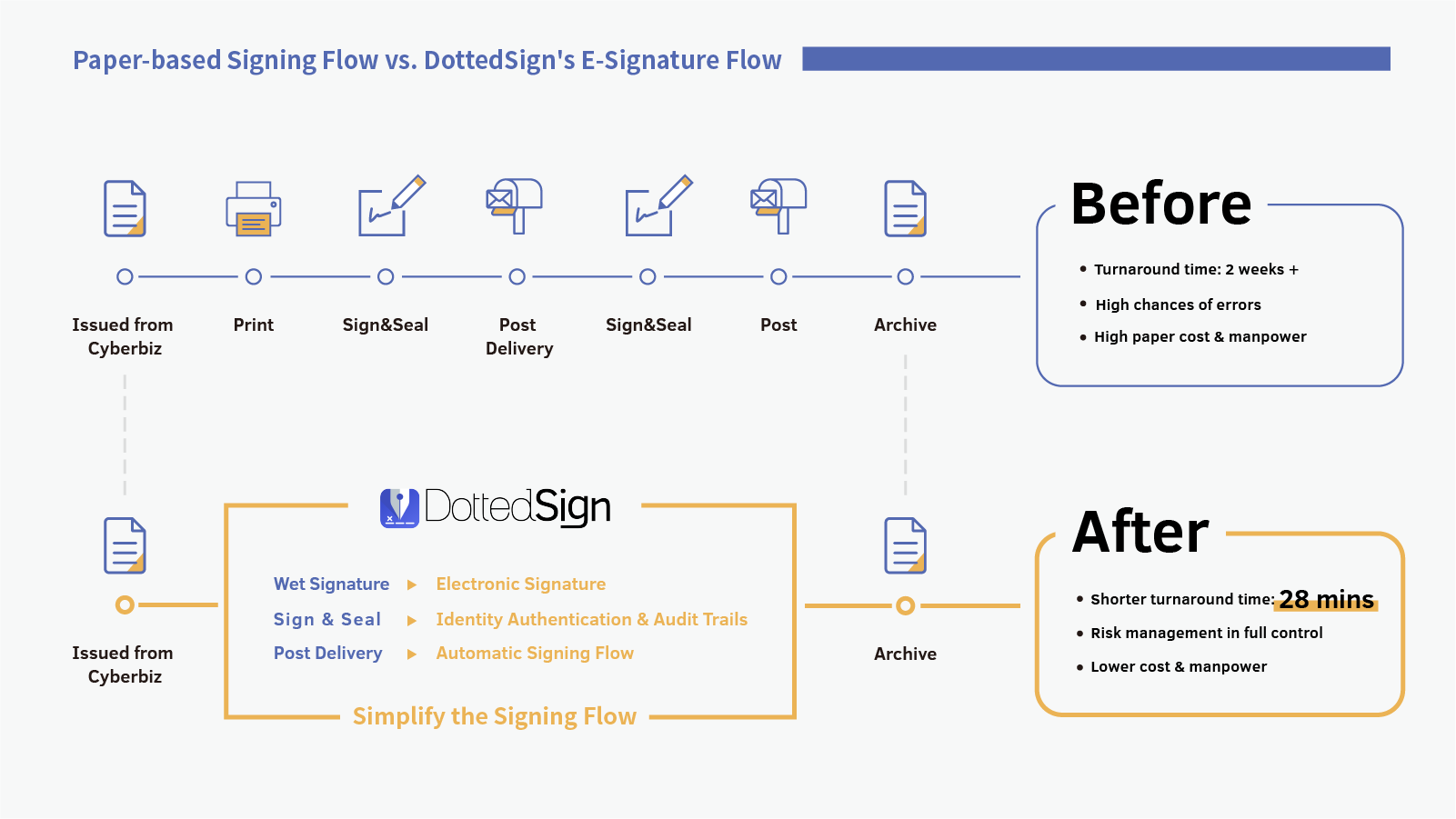 For the Cyberbiz Team, one of the causes for frustration with paper-based signatures was the fact that it was oftentimes the same one or two document templates that slowed progress. We'll assume that many, but not all, of your contracts going out follow a similar format, like Cyberbiz.
The Cyberbiz Team uses a set of standard documents when working with their clients. For instances like this, DottedSign's template mode is quite the time-saver. Once you set up your document as a template, you'll be able to reuse it over and over by simply entering the contact's information and hitting "send." (Related article: Importing an Existing Template to Create a Signing Task)
Considering replacing your paper-based signature process? Book a demo with us to explore what DottedSign can do to optimize your signing flow.
Remote Working Made Easier
Cyberbiz managers, like those in other organizations, are constantly on the move. Be it client meetings, visiting different facilities, or navigating the constantly-evolving remote work environment in a post-pandemic world, it's an extra hassle if you need to carry physical contracts with you from place to place.
DottedSign is helping managers at Cyberbiz and other organizations carry all of their documents safely in their laptops or mobile devices for maximum efficiency. (Related article: Signing a Document Anytime, Anywhere)
Sign Digitally in Person
We mention above that Cyberbiz managers are able to bring their contracts wherever they go and take full advantage of workplace mobility. But what happens when you meet with the client?
DottedSign offers digital, in-person signing for when you close a deal in the same physical space as the person signing the document. It's easy to use and the colored fields make it easy to indicate who should add their signature and where they go on the document. DottedSign for the iPad transforms your device into a tool that serves as an effective replacement for pen-and-paper signing.
Reclaim Hours in Your Workday Using E-Signature Service
We started this post by asking you how much time you spend creating and signing documents the traditional way. Do you know how much time you could save when you sign documents online? In Cyberbiz's case, the average wait time from the minute they create documents to when they're signed and returned gets reduced from two weeks to 28 minutes. That means nearly 335 hours or 20,123 minutes faster – but who's counting?!
On top of that, their internal document processing time was reduced by a factor of 16: from four hours to just 15 minutes.
DottedSign Safeguards Your E-Sign Workflow with AWS
DottedSign and AWS partnership aims to offer you a fast, reliable, and secure e-signature experience for you and your clients. As a certified AWS partner, our solution seamlessly integrates with AWS services to give you unparalleled performance under the AWS ecosystem, including:
Data Backup
Platform Stability
Full Availability Service
Security and Compliance
We want to help your team maximize its productivity just like Cyberbiz. Depending on your level of experience using eSignature, the thought of digital transformation may seem a bit daunting at first. That's where we can help.
Schedule a time with our team of experts today and we'll walk you through the service and help you incorporate it into your workflows.
Close Deals Faster
Collect signatures remotely
Traceable audit trail and OTP
Team management and reporting
Explore DottedSign with Free Trial!
Start Now