Top 10 Zapier Integrations To Enhance Your Workflow
Time is one of the most valuable resources that we have. As physicist Albert-László Barabási once wrote, "If we want to treat [time] with respect, we need to set priorities."
Companies worldwide thrive to improve their workflow and use their time wisely with the help of automation tools like Zapier. Entrepreneurs, in particular,  know how important it is to be as efficient as possible to save time and other valuable resources.
This is where automation tools come in handy. Entrepreneurs can take advantage of these automation workflows to maximize their business profits without wasting too much effort. They can also take advantage of customizable workflows by building custom trigger-action workflows. We have summarized the key reasons in four different aspects.
To save time, cost, and energy

The workdays of self-employed entrepreneurs are usually filled with research, planning, and strategizing. As an entrepreneur, you have to constantly switch hats and think of ways to grow your business.
However, there is so much you can do with so little time. You've got to decide your priority and invest your time for the best outcome. Therefore it is essential to use automation tools to cut off repetitive and time-draining tasks. You will end up saving not only time but also money and energy.
To be more responsive

As an entrepreneur, delivering top-notch customer services at the early stage is an important momentum. However, hiring several people to offer 24-hour customer support can be expensive.
With the help of customer service software and automation tools, on the one hand, you can stay responsive to your customers and develop better customer relationship management. On the other hand, you claim more hours to develop new markets without breaking the bank.
Many automation tools like Zendesk and LiveAgent can respond to a high volume of user communications in real-time and offer a consistent customer experience. They also provide clients several choice questions in a dropdown menu or a dropdown list to check out the options based on customer questions. Automated messages are also commonly used to let the customers know that they will receive a response quickly instead of leaving a blank response. This will also help your page showcase faster response times (especially on Facebook), making your brand even more reliable in the eyes of potential clients and also help you win points in customer retention.
To generate revenue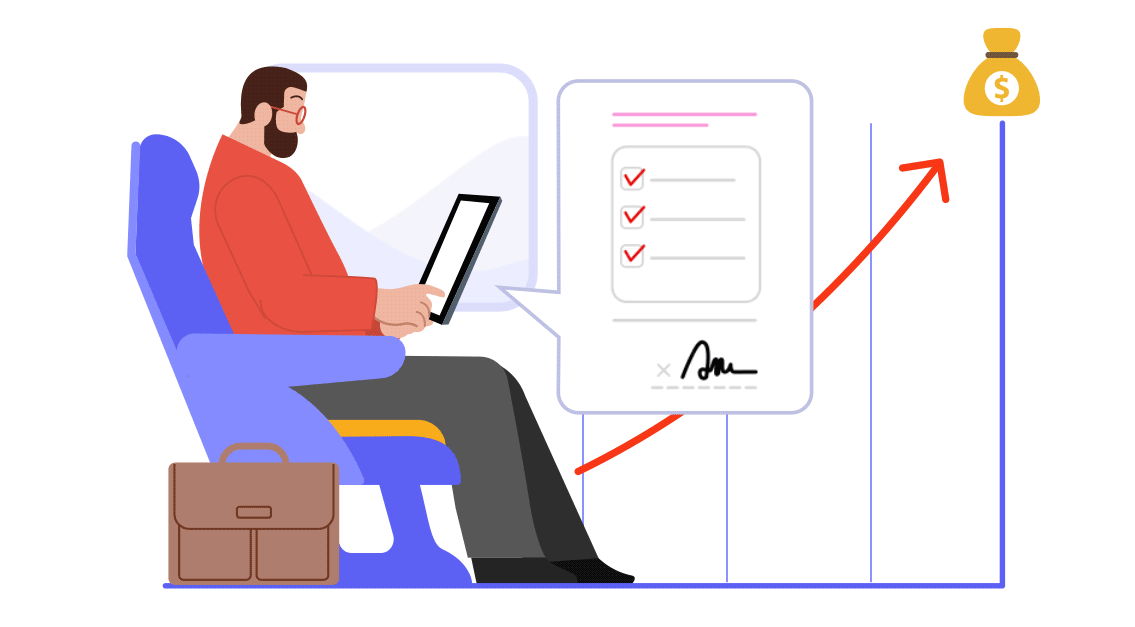 Entrepreneurs should take advantage of the marketing automation tools to generate revenue. For instance, set up an automatic welcome email with a discount code to your newly registered member. Or you can automate reminder emails sent out to those who have left items in their cart, bringing them back to finish the checkout process. The possibilities are endless.
Enhance collaboration and communication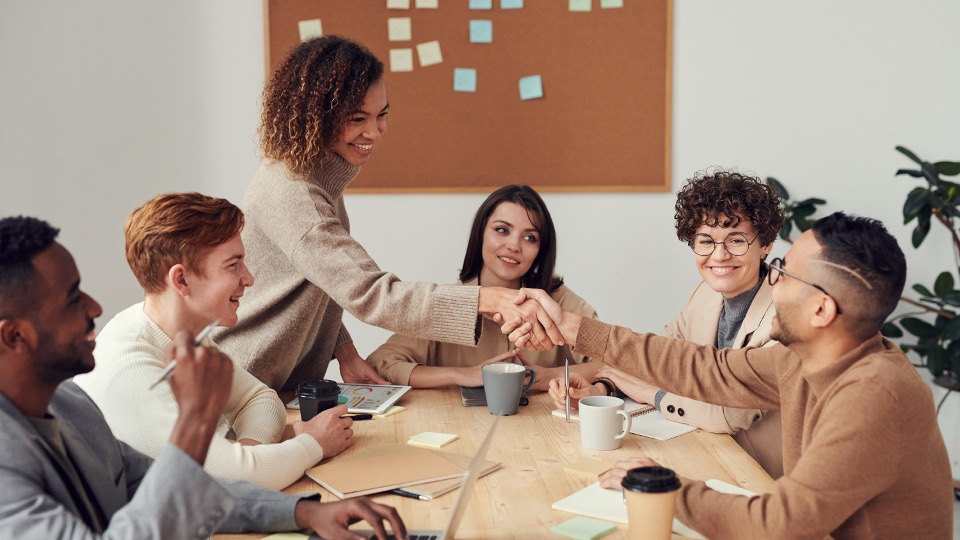 Whether you have a small, medium, or big team, you will need to make the overall collaboration and communication process as streamlined as possible. Automation tools are time-savers for entrepreneurs, in this case, to send notifications (such as an email notification or message notifications) or to synchronize the latest update across teams without attending endless meetings.
Modern-day tools like Zapier, for instance, are perfect for entrepreneurs. This article will take a closer look at the top 10 Zapier integrations that can help entrepreneurs accelerate their workflow productivity.
What is Zapier?
Zapier is a service automation platform that connects the tools you use to create an automated workflow. Zapier entrepreneurs automate time-consuming administrative tasks so that they can focus on mission-critical tasks and generate higher value for the business.
For the majority of use cases, having a Zapier on a free plan will satisfy your needs. If you need to create more zaps as the business scales up, they have a self-served subscription page for you to explore further.
Starting Price: $19.99 per month (billed annually)
Freemium: Yes
Pros
・Zapier's Platform UI is easy to use
・Great customer support
・Over 3000+ apps to connect with
Cons
・You may need an IT or development team to work with the API features for some complex applications.
What are Zaps?
All workflow sequences created via Zapier are called Zaps. You may also consider Zaps as micro workflows. They are customizable and can be created in a matter of minutes with just a few clicks. You will not need to use any code to create the Zaps that are already available.
Every zap consists of a trigger and one or more actions. Every time a trigger event occurs, Zapier will run the action steps according to your setting.
The action can be a series of automated tasks that include an initial step and subsequent steps. All of these happen in the background, so you will not have to lift a finger.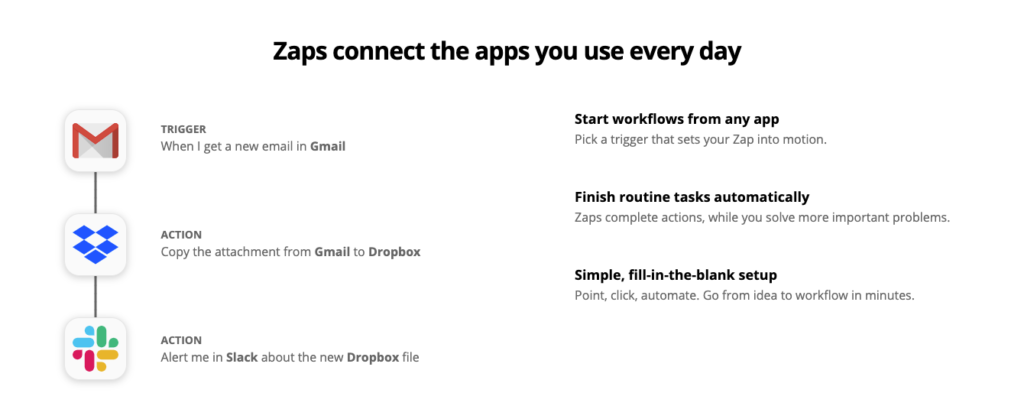 Let's say, for instance, that you need to save the attachment from your newly received email in Gmail to Dropbox. Gmail has a Zapier integration for that, namely 'New email in Gmail.' You can then connect a Dropbox action event to complete this automation process. 
With this zap integration in place, the attachment will be automatically uploaded to Dropbox every time you get a new email. A follow-up event can be getting an alert sent to your Slack channel or any equivalent project management software you use that offers a Zapier integration when a new Dropbox file is created. 
How can Zapier integrations accelerate your business growth?
Zapier offers abundant integrations for business owners, including entrepreneurs, such as:
・Notify your team about new leads in a group channel
・Send personal messages
・Share content across social media channels
・Save files and media to the cloud
・Add new leads to a spreadsheet or database 
・Add new leads to a CRM software or support platform  
Top 10 Zapier Integrations For Entrepreneurs
If you're evaluating new software, you don't have to commit to buying the software right away. You can seamlessly integrate Zapier with the free version of Slack, the free DottedSign, and other tools, allowing you access to experience these services and maximize productivity.
Starting Price: $7.3 per person, per month (billed annually)
Freemium: Yes
Slack is all about team communication. This popular platform offers instant messaging and document sharing.
It aims to keep all company conversations in one place, making it easier for team members to search for anything. They can also use it for leaving comments on projects or discussing strategies and tactics.

Notify your team when a lead fills out a form
You can use Zapier to connect your lead generation forms to Slack and get notified whenever a new lead fills out a form. Get notified on your preferred Slack channels and follow up with your leads instantly. 
Notify your team when a cart gets abandoned
It is common to see your potential customers spending time browsing your products but did not purchase them right away.  We usually categorize them as those who have abandoned the shopping cart. Connect your payment processing service such as Stripe with Slack, and you can instantly receive notifications sent to your team channel. With this integration, you will know when to take further actions and give your customers an attractive incentive to complete the purchase,  for example, a friendly discount. 
Starting Price: $4 per month (billed annually)
Freemium: Yes
Asana is a web and mobile application that helps teams manage, organize, and track their work promptly. This project management platform aims to simplify team-based work management. If you use Asana already, you will be happy to know there are tons of Zapier integration use cases with Asana. 

Create a new Asana task from your calendar event 
This integration triggers when you have a new event such as a kick-off meeting or a client meeting on your schedule, Zapier can automatically add a new task on Asana. The task can be a shared board if you need to stay synced up with your members at all times. 
Add a new project on Asana from a labeled email
When you categorize emails by adding or updating labels to mark the status of each task, this integration will automatically add a new project in Asana. This action will only happen if you link it with a trigger event, such as updating the labels. This way, you can create a full zap.  After the action takes place, you can assign the collaborators and the people responsible for the separate task. 
Starting Price: $4.99 per month (billed annually)
Freemium: Yes
DottedSign is an innovative eSignature solution that allows you to sign documents online. You can also use DottedSign to collect signatures from clients or employees in a streamlined process to save time and accelerate your business growth.  
As an entrepreneur, you've got a lot on your plate to keep the business running. This means you likely have a lot of documents waiting for you or others to sign, for example, employment agreements, insurance forms, financial records, and so on. After signing, you need to notify your team or update your project management dashboard. With DottedSign integration on Zapier, you can easily connect these processes and stay on top of your work in a smart way. 

Sign documents instantly 
A new trigger will occur as soon as it is your turn to sign a document with DottedSign. You can connect with your communication tool like Slack, Asana, or Trello to receive the request notification. This will help you be up to date and sign documents instantly.
Be up to date when a task is completed
This integration triggers once everyone involved in the signing process has completed the document via DottedSign. You may choose to connect with the following action, such as sending out a Mailchimp campaign to your new client or preparing a payment request.  
Wonder what more you can do to amplify your business workflow with DottedSign and Zapier? We have a recommendation list for you to explore further, read this article and try them yourself!
Ready to sign off on a digital contract with eSignature? Simply create a DottedSign account and explore all features for FREE today!
Close Deals Faster
Collect signatures remotely
Traceable audit trail and OTP
Team management and reporting
Explore DottedSign with Free Trial!
Start Now
Starting Price: $9.99 per month 
Freemium: Yes
Founded in 2001, Mailchimp is an American marketing automation platform and email marketing service. As an entrepreneur, you might also need to ask your marketing team to send out monthly or quarterly email newsletters to your clients or prospective ones. 
To take advantage of the efficiency of email automation, you can also use Zapier to pre-set email campaigns, template inputs, accounts, invites, and more. 

Monitor your email campaign performance  
This trigger happens whenever a recipient opens an email you've sent through a specific campaign via Mailchimp. A follow-up action can be adding a new row in your Google Spreadsheet, keeping track of your campaign performance. This is a common yet handy trigger to collect data for future enhancement.
Keep track of newly created or sent email campaigns
This integration triggers whenever one of your team members creates or sends out a new campaign via Mailchimp. You can then connect with your project management tool like Trello and automatically update the information on the card associated with this campaign.
Starting Price: $6 per month (part of Google Workspace)
Freemium:  Yes
This spreadsheet program is offered for free if you are using a free Google account for personal use. It is also part of the Google Workspace account, which you might already have for your business. 

Create a new row when you set a new goal 
This integration triggers when you set a new goal in Google Analytics or an equivalent data platform, a new row will be created in a spreadsheet. If you keep track of Google analytics data on Google Sheets, it will be helpful to be notified when a new row is updated with the latest data.
Create a spreadsheet column when a new lead comes in
This Zapier action will create a new column in a specific spreadsheet whenever a trigger takes place. Let's say that you want to add all new Facebook Lead Ads leads to a Google Sheets document. You can look for their trigger and action events to create such a workflow right away.
Later on, you can expand the document by adding an email column and other contact info.
Starting Price: $6 per month (part of Google Workspace)
Freemium:  Yes
You can use this online word processor for free if you are using a free Google account. Google Docs is also part of the Google Workspace account, including Google Sheets, Google Slides, Google Calendar, Google Analytics, Google Forms, Google Drive, Google Keep, and more.

Save  a new document to a folder 
This integration triggers whenever a new document is created in Google Docs, and then a copy will be uploaded to a specific folder in a cloud-based storage service like Dropbox or OneDrive. 
This instant trigger is helpful if you need to keep a backup of all the blogs, articles, or other documents created using Google Docs. The copy added to your preferred folder might come in handy if a document is completely deleted by mistake and you have no other way to recover it. 
Keep in mind that this trigger does not get activated if a new document is added to a particular subfolder.  
Create a new document from a template
This action will create a new Google Docs based on an existing one and can replace any placeholder variables you have in your template document, such as the name, email accounts, and so on. 
You can use this particular action if you need to create several google documents targeting different customers. This integration will save time duplicating the same documents while delivering a personalized experience to your customers. Better yet, you can focus your energy on more critical tasks rather than on routine tasks.  
Price: Depends on how much budget you want to allocate to it 
Facebook Lead Ads allow entrepreneurs to target their potential customers interested in buying their products or services. This initiative also enables advertisers to collect information about the leads, such as their name, email address, phone number, and so on. 
Facebook started testing Lead Ads as a new and easier way for people to fill out forms via their mobile devices. Nowadays, Facebook conversions and Facebook remarketing have become popular for many companies worldwide.    

Be in the know when a new lead  is created 
As an entrepreneur, you might consider running Facebook ads or sponsoring posts to promote your brand. You can automate your Facebook lead ads campaign with Zapier integrations. 
For example, you connect with Gmail to set up an automatic follow-up or connect with MailChimp to automatically subscribe your new lead to the mail list.
Price: Free
Aiming to serve the public conversation, Twitter is an American social networking service where users interact through tweets. Similar to  Facebook, you can also use Twitter to your advantage; for example, to promote your brand, products, and services. You can also run ads on Twitter or sponsor posts. 

Convert new followers into leads
This integration triggers whenever you get a new follower. You can use this trigger when you need to convert new followers into leads. Since these followers already like your Twitter account and what you tweet about, they are one step closer to becoming your new customers. You can engage with the new followers by sending them a private message and turning them from potential customers to clients.
Take advantage of Search Mention
This integration triggers when a user creates a new Tweet containing a specific search term you are interested in. The word can be your company's name, phrase, or hashtag you have created. 
You don't need to spend time on a search engine to find these mentions. You can stay on top of social media talks in near real-time by connecting to a platform like Slack. Use these triggers to get notified and be aware of your brand's most important and valuable mentions. You can also build a network with people who tweet about you or the hashtags you have created. 
Starting Price: $10 per month (billed annually)
Freemium:  Yes
A subsidiary of Atlassian, Trello is a web-based, Kanban-board style team collaboration tool that can help you organize your projects into boards. It can be helpful if you need to see everything in one glance and check which projects are in progress. 

Schedule a reminder in your calendar 
Setting due dates on Trello cards is easy. However, it may be hard to keep tabs on all those deadlines. With the help of Zapier, you can turn due dates from Trello into Google Calendar events so that you can see all the deadlines in your schedule. For example, you will be reminded when a big project is due on Trello and take the necessary steps in time.  
Be up to date with Trello card updates 
This integration triggers when a card is updated in Trello. If you are in charge of a particular Trello card or are waiting for a task to get done on its due date, getting these updates will help you see all the new changes happening in that specific card. 
For instance, for those who use different to-do list tools, you can easily connect Trello cards with another tool such as Todoist. This is to ensure you miss no important tasks on your personal to-do list. 
Or, when you have a newly scheduled meeting in Google Calendar, the integration will automatically create a Trello card for you. Maximize the benefits of automating your workflow and give yourself sufficient time to prepare ahead.
Price: Free
Microsoft To-Do is a highly functional to-do list app for everyday tasks that can be helpful for every entrepreneur out there. This application is also perfect for keeping track of your projects, basic tasks, or any daily tasks that you need to complete.  

Create a new event from your to-do 
You can use Zapier to connect Microsoft To-Do with Google Calendar. One of the most popular ways is to create tasks in Microsoft To-Do and add these tasks as events on Google Calendar. This integration will provide you an organized overview of all the tasks and their respective deadlines.
Add a new to do to Teamwork 
This integration will benefit those who keep their to-do lists in multiple places and want to save time by not repeating the steps. By connecting Microsoft To-Do with Teamwork,  every task you create in Microsoft To-Do will "translate" into a task in Teamwork, where you can proceed assigning people to each task. 
Wrap up
We hope you find these 10 Zapier integrations are indeed time-savers and effectively enhance your existing workflow. These are designed to help entrepreneurs work smarter in their early stages of business development, not just harder.
Feel free to take a look at Zapier's App Directory and see if there are any other apps that you can connect for conditional workflows, custom workflows, or any other advanced workflows. You have an abundant choice of app integration options to take advantage of. So use them wisely.
As an entrepreneur, using DottedSign is a step in the right direction. You can use this award-winning eSignature solution to promptly collect all the signatures you need from your employees or clients. Keep your business running and accelerate its growth in a simplified and streamlined way.
Need to sign, assign or manage documents online right away? Register your DottedSign account for FREE and enjoy a 14-day trial.

Looking for a customized business signing solution? Book a demo with our team today!
Close Deals with DottedSign
Accelerate the buying process more effectively!
Start Now