The Value of Digital E-Certified Electronic Signatures for Your Organization
When it comes to signing documents online, an e-signature solution can help your business simplify and streamline the process — all while taking your security and compliance to the next level. What's more, as companies continue to make valuable transactions online and call for security increases, leveraging digital e-certified electronic signature solutions is becoming progressively essential. 
With this in mind, we're taking a closer look at the true value of e-signature solutions for businesses across industries, and how you can determine a software provider that can adequately support your unique business needs. 
What is a Digital e-Certified Electronic Signature?
An electronic signature, or e-signature, is an efficient and secure way for your business to easily and quickly sign electronic documents. A certified digital signature takes this a step further, as an electronic signature that's endorsed by a digital certificate — verifying the integrity of a signature and the entirety of the electronic transaction.
This assurance ultimately helps your business guarantee the methods of acquiring a signature, along with the signature itself, meet the highest legal standards. In addition, this ensures that the contents of a digital document haven't been tampered with, effectively mitigating the possibility of forgery along the way. 
Electronic Signatures vs Digital Signatures — What's the Difference?
While a digital signature is a form of electronic signature and both of these options can be used to sign an electronic document, there are a few important features that differentiate the two:
An electronic signature is typically used to indicate that a signer is actively and knowingly entering an agreement or contract. This is essentially a digitized handwritten signature, but bear in mind, it doesn't necessarily have to be a signature. This all-encompassing term for online signatures can also include a sound, symbol or process that's attached to an electronic transaction — although they're less secure than their digital counterpart. 
Digital signatures add a layer of protection to your business's signing process by making it possible to seal and identify a signed document using a digital certificate and public key infrastructure. By encrypting an electronic form and permanently embedding information, you can enjoy a more secure and tamper-proof process. 
When it comes to signing documents electronically, common use cases include:
Legal contracts.
Real estate transactions.
Financing documentation.
Sales contracts.
Purchase orders.
Employees offer letters, new hire paperwork and policy updates.
And that's just the tip of the iceberg. Remember: The type of signature you use depends entirely on the level of security and assurance your team needs for that agreement.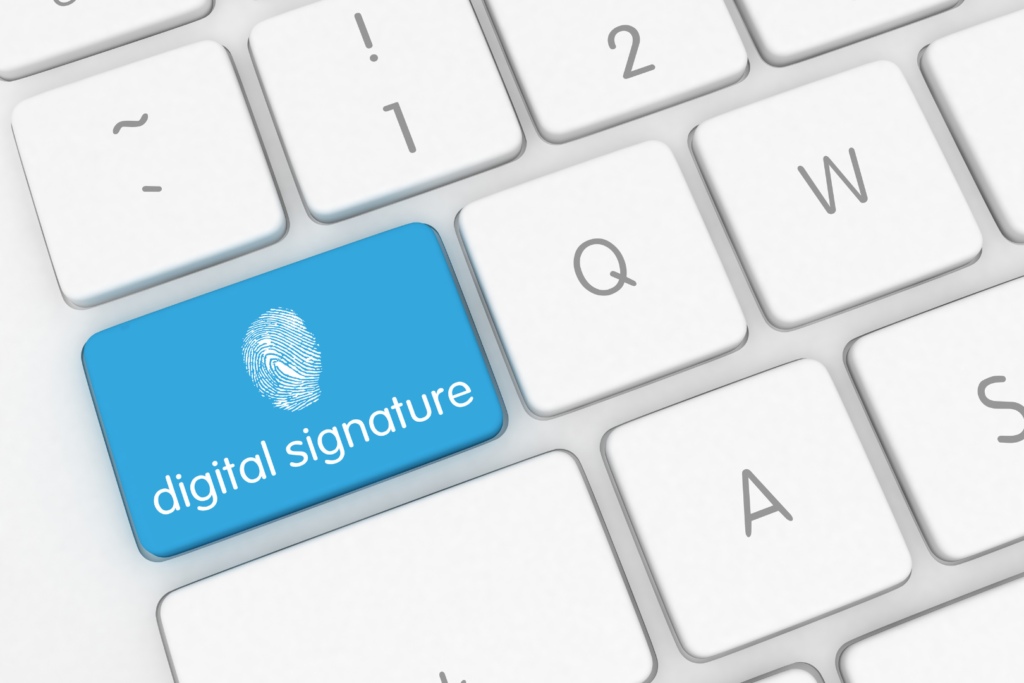 How Electronic Signatures Work
Digital signing solution providers, such as DottedSign, follow a public key infrastructure (PKI) protocol. This PKI uses a mathematical algorithm to generate two long numbers called keys: a private key and a public key. When a signer completes a signature request, a cryptographic hash is generated for the document — where the resulting encrypted electronic data makes up your digital signature. For added protection, this signature is marked with the time the document was signed. With this security measure in place, your business can ensure that no changes have been made to the electronic form after the fact. 
For the highest assurance, public key infrastructure should be created, administered and saved in the safest way possible. Because of this, the services and support of a reliable certificate authority (CA) are often required for the best result. 
What is a Certificate Authority?
In terms of electronic signatures, a CA is a trusted third party that validates a person's identity. This is meant to guarantee that individuals granted a unique digital certificate are, in fact, who they claim to be. DottedSign's digital certificates, for example, are added as a result of our partnership with a Certificate Authority (CA) under the Adobe Approved Trust List (AATL) — a program that allows millions of users all around the world to sign digitally using trusted digital IDs.
Is an Electronic Signature Legally Binding?
The short answer is: yes. Electronic signatures are valid in all U.S. states and granted the same legal status as a traditional wet signature under state laws. The same is true for many other industrialized countries that consider an e-signature to carry the same weight and legal efficiency as a handwritten signature on a physical document. 
Understanding the UETA and E-Sign Act
What makes the legally binding nature of an e-signature official? The Uniform Electronic Transactions Act (UETA) and the Electronic Signatures in Global and National Commerce Act (E-Sign Act). The UETA — a precursor to the E-Sign Act established in 1999 — establishes the legal equivalence of electronic records and signatures with physical documents and manually signed signatures. This regulation, designed to help businesses remove barriers to electronic commerce, has been adopted by 47 U.S. states, as well as the District of Columbia and the U.S. Virgin Islands. 
The E-Sign Act, a federal law passed in 2000, allows the use of an electronic record to satisfy any statute, regulation or rule of law requiring that such information be provided in writing — if each party to the transaction consents to do business electronically and hasn't withdrawn said authorization. 
What is Accepted as an Electronic Signature?
Fortunately for businesses, there's a wide range of electronic signatures that are accepted today. Some of the most common acceptable e-signature methods include:
A typed name placed on a signature block.
A digitized or scanned image of a handwritten signature that's attached to an electronic record.
A traditional wet signature input onto an e-signature pad.
An e-signature created by a third-party signature software. 
While an acceptable electronic signature can ultimately come in many forms, leveraging a comprehensive, digital e-certified electronic signature solution can help your business considerably reduce the time, effort and resources involved in the document signing process — in a secure and trusted way.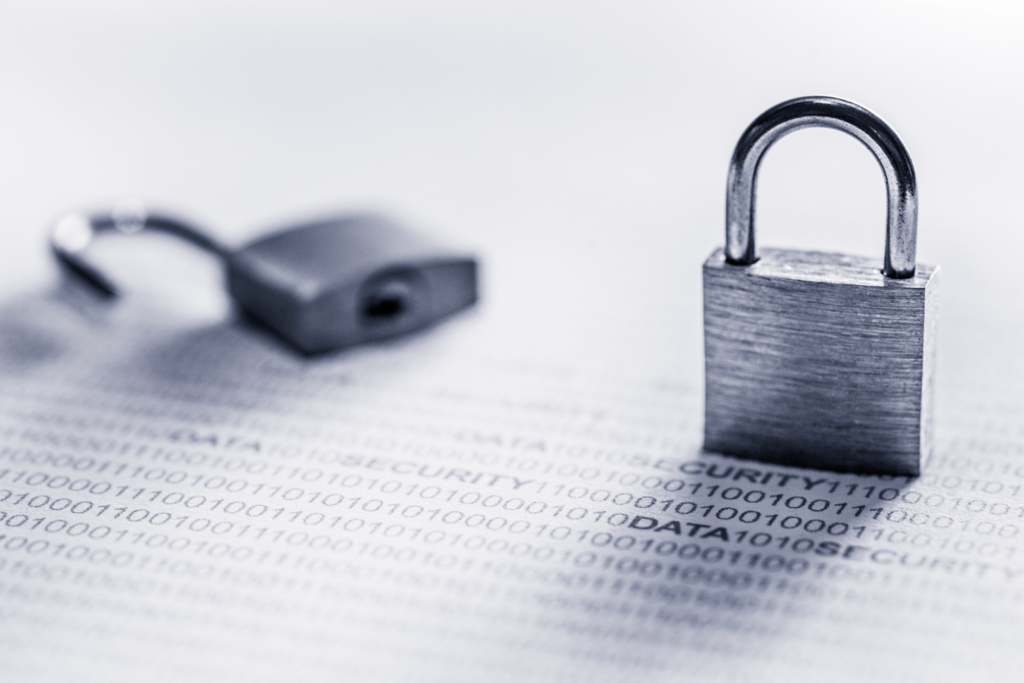 The Benefits of Using a Certified Electronic Signature
A digital signature is essentially an electronic fingerprint that's backed by a certificate authority. Because this inevitably verifies the integrity of an electronic form, it can provide your business with a number of advantages as a result. A certified digital signature helps you and your teams:
Save time: Signing a document, whether physically or electronically, takes approximately the same amount of time. However, leveraging a digital signature can facilitate the signing, assigning and managing of documents online — which ultimately provides valuable time-savings in the long run, so businesses can use that time to create effective triggered email and digital marketing campaigns.
Cut costs: Minimizing your reliance on physical documents and signatures inevitably reduces the costs associated with ink, paper, printing, scanning, shipping and courier services or even travel expenses. Your business can also see cost savings long-term as a result of improved workflows and efficiency, a decreased risk of costly errors and improved security measures. 
Improve workflow efficiency: The physical document signing process can not only be costly, but also time-consuming. Digital signatures, by contrast, can dramatically increase your documents' turnaround time and improve compliance which helps your business maximize workflow efficiency. This is a significant benefit to your bottom line. 
Provide a better customer experience: Making use of digital signatures can help your business provide a greater level of convenience and better service experience for the customer who can engage with the company and sign a document anytime, anywhere. By meeting the customer wherever they are, you're offering personalization and support that can strengthen the user experience. 
Increase security: At the core of digital signatures are authenticity and security. A digital certificate verifying the integrity of a signed document, in addition to time-stamping and a host of other security features, reduces the risk of duplication, document alteration and tampering or fraud. 
Boost compliance efforts: Digital signatures guarantee verification and assurance, meaning they are legally binding and can stand in any court of law, just as any other signed physical document. Your audit and compliance are also improved by time-stamping and tracking capabilities.  
Ensure Security and Compliance With Comprehensive E-Signature Solutions
A certified digital signature can go a long way toward supporting your business and providing critical advantages throughout the document signing process. But, using a comprehensive e-signature solution can help your business streamline the process and further encourage these benefits. 
DottedSign is a smart and robust digital signature solution that's designed to simplify the signing, assigning and managing of documents online while prioritizing your security and compliance along the way. Simple and easy to use for both individuals and teams of all sizes, advanced electronic signature software helps your business:
Efficiently request signatures from clients.
Capture legally binding e-signatures.
Save time by quickly signing documents online.
Boost efficiency by gathering signing tasks all in one place.
Take control of access permissions, customization and document management.
Track real-time document progress with the automated flow.
Ensure the confidentiality of paperless signing with identity authentication and signature validation.
Taking advantage of an electronic signature solution that's trusted by business professionals across industries can transform your business flow, simplify your signing process and ultimately support your growing business long-term. If you're ready to streamline your document signing lifecycle with the e-signature solution from DottedSign, register for free to get started. 
Close Deals with DottedSign
Accelerate the buying process more effectively!
Start Now